Independence Realty Trust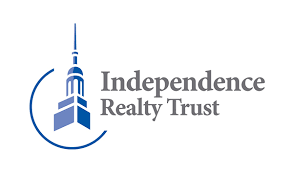 Independence Realty Trust ("IRT") (NYSE MKT: IRT) is an externally managed and advised apartment REIT that owns and acquires well-located garden-style and mid-rise apartment communities throughout the country. IRT targets supply-constrained, non-gateway markets where IRT can generate attractive risk-adjusted returns by purchasing stable communities and introducing professional property and asset management services. IRT utilizes its asset and property management expertise to optimize the operating performance of its communities with a primary focus on the living experience of its residents.
About Sponsor
Founded: Unknown
Management Team:
Scott F. Schaeffer:

Chairman & Chief Executive Officer
Farrell M. Ender:

President
James J. Sebra:

Chief Financial Officer
Sponsored Offering(s):
(See tables below)
REITs
Sponsor Contact Information
Independence Realty Trust, Inc.
Two Logan Square
100 N. 18th Street
23rd Floor
Philadelphia, PA 19103
Phone
215-207-2100
Fax
215-243-9039
Email
info@irtreit.com
Sponsor Snapshot
AUM*
   Not Applicable
Total Equity Raised**
    $37.5 Million

Number of Liquidity Events***
    1
* Total assets for all active alternative investments at most recent quarter end, excluding full-cycle programs.
** During offering periods, including DRIP proceeds, for all offerings.
*** As defined by Blue Vault where total liquidity has been achieved for common stock.
(Data current as of June 30, 2017)
Links
Independence Realty Trust website
Please note the following when reviewing the product detail table(s) below:
Total Asset figures listed are from the last quarter reported prior to the full-cycle event (or merger with another firm).
Blue Vault does not consider it a full liquidity event for the common shareholders until they can sell their shares or get cashed out completely.
Nontraded REITs
Product Name
Effective Date
Close Date
Asset Type
Investments
Number of Investors
Effective Date
6/10/11
Closed Date
8/1/13
Asset Type
Multifamily
LifeStage
Full-Cycle
Capital Raised
$37.5M
Properties
$132.1M
Investments
Not applicable
Liquidity
Full-Cycle (8/13/13)
Number of Investors
Not applicable