Ten Q3 2022 Nontraded BDC Individual Performance Pages Published
The following Q3 2022 Nontraded BDC pages are now available to Blue Vault subscribers:
Open BDCs
-Apollo Debt Solutions BDC Q3 2022
-BlackRock Private Credit Fund Q3 2022
-Blackstone Private Credit Fund Q3 2022
-HPS Corporate Lending Fund Q3 2022
-Nuveen Churchill Private Capital Income Fund Q3 2022
Closed BDCs
-FS Energy & Power Fund Q3 2022
-Guggenheim Credit Income Fund Q3 2022
-MSC Income Fund Q3 2022
-NexPoint Capital Q3 2022
-Owl Rock Capital Corporation II Q3 2022
Blue Vault subscribers may log in to access The Vault. If you are not a subscriber, click here for our store.
Links to Blue Vault's Classic PDFs are located in the section indicated in the image below.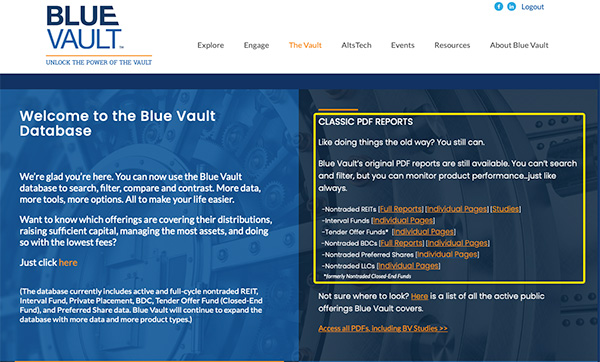 Go Back
I have been using Blue Vault Partners for the past five years.  I have found them to be a valuable, unbiased resource when it comes to evaluating and comparing non-traded REITs.  The reports help me analyze which sponsors are doing a responsible job of managing their offerings.  This allows me to limit my REIT recommendations to only the most competitive products, and then track those REITs throughout their life cycle.