A Quick Look at Nontraded REIT Properties in Riot-Torn Cities
July 28, 2020 | James Sprow | Blue Vault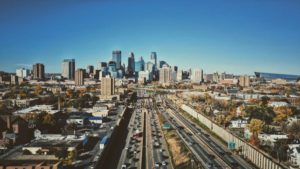 Earlier this year, Blue Vault looked at the total number of properties in nontraded REIT portfolios and found a total of 4,191. At that time, we were most interested in those property types that had the potential to be most severely impacted by the COVID-19 pandemic. For example, nontraded REITs owned 269 hotel properties, including 43 full-service hotels, 169 limited-service hotels, and 54 extended-stay hotels. That sector has been hit very hard by the lockdowns associated with the virus. Another category that has been hit hard is the student housing sector with 47 properties held by nontraded REITs.
With the recent spate of protests and riots in major cities, Blue Vault looked once again at nontraded REIT properties with our focus on those properties that are located in two cities that have been rocked by riots. Minneapolis was hit hard early on after the George Floyd tragedy, with an estimated 1,500 businesses destroyed or damaged by rioters. More recently the riots in Portland have been occurring on a nightly basis, with resulting damage to commercial and government buildings. How many properties owned by nontraded REITs are located in those two cities?
Interestingly, Blue Vault's data shows that only nine properties owned by nontraded REITs are located in the city of Minneapolis, out of a total of 87 NTR-owned properties located in Minnesota. Blackstone REIT owns three properties in Minneapolis, all within the industrial/warehouse distribution center category. Parking REIT owns two parking properties in downtown Minneapolis. Hines Global REIT owns one shopping center property in Minneapolis. Pacific Oak Strategic Opportunity REIT and KBS REIT III both own an office property in Minneapolis. Watermark Lodging Trust owns the Westin-Minneapolis with 214 hotel rooms in downtown Minneapolis.
In Portland, Oregon, there are 70 properties owned by all REITs, both listed and nontraded REITs. Of these, 11 properties are owned by nontraded REITs. Jones Lang LaSalle Income Property Trust owns an office property in downtown Portland with 296,000 square feet of GLA. The REIT also owns a shopping center located away from the center of Portland where the riots have been concentrated. Blackstone REIT owns one multifamily property in Portland and Resource Real Estate Opportunity REIT II owns two multifamily properties. Phillips Edison & Company's two shopping center properties are not located in the central business district. Strategic Student & Senior Housing REIT's Courtyard at Mt. Tabor is a continuing care–retirement facility away from the central business district. All things considered, the exposure of the nontraded REIT portfolios to the urban rioting in Portland appears to be limited to the single JLL office property at 888 Southwest Fifth Avenue in downtown Portland.
Sources: Blue Vault, S&P Global Market Intelligence
Go Back
Second Annual Blue Vault Broker Dealer Educational Summit 2016
2016 Broker Dealer Educational Summit 2016
Best Due Diligence meeting in the industry. No sales pitches, senior level decision makers, meaningful discussions and the Broker Dealer networking sessions were especially useful. Thanks to Blue Vault for raising the bar!