August 2020 Nontraded REIT Capital Raise Increases for Reporting Offerings
September 15, 2020 | James Sprow | Blue Vault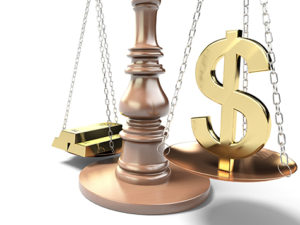 Blue Vault received August sales totals for 12 effective nontraded REIT program offerings as of September 14. Sales reported by those 12 NTRs totaled $88.63 million compared to $76.05 million for July, an increase of $12.57 million, or 17%. Four additional nontraded REITs have previously suspended their offerings or did not report sales for August (Griffin Capital Essential Asset REIT, InPoint Commercial Real Estate Income, Moody National REIT II, and Strategic Storage Trust IV).
Cantor Fitzgerald Income Trust, formerly known as Rodin Global Property Trust, did not have any August sales, with capital raise by the newly named REIT recommencing September 1.  Black Creek Industrial REIT IV had the largest dollar increase, over $11 million for a 34% surge, from $32.5 million in July to $43.6 million in August.  Another Black Creek Group NTR, Black Creek Diversified Property Fund had a large percentage increase, from $4.97 million in July to $10.2 million in August, for an increase of over 105%.  On a much smaller scale Cantor Fitzgerald's Rodin Income Trust's sales increased 525%, or $0.141 million from $0.027 million in July to $0.168 million in August. 
Black Creek Industrial REIT IV, again almost singlehandedly led the 12 reporting REITs in August to a month-to-month increase of $12.57 million with its funding increase of $11.02 million. For the eight-month period in 2020, the 12 reporting REITs had a total of $1.600 billion in capital raise, including DRIP proceeds, compared to $1.372 billion for the same period in 2019 as reported by 17 REITs, an increase of 17% Y-O-Y.
Other REITs with monthly increases in sales were FS Investments' FS Credit Real Estate Income Trust with a 29% jump from $6.69 million in July to $8.63 million in August.  Hines Global Income Trust increased its capital raise from $11.52 million in July to $14.00 million in August, a rate of 21.6%.  Decreases were reported by CIM Income NAV, from $1.02 million in July to $0.40 million in August.  Cottonwood Residential's capital raise fell from $2.39 million in July to $2.00 million in August.  Jones Lang LaSalle's Income Property Trust had a drop of 10.2%, from $7.84 million in July to $7.04 million in August.  Nuveen's Global Cities REIT had a decline of 16.3%, from $2.58 million in July to $2.16 million in August.  RREEF Property Trust had a steep decline from $1.40 million in July to $0.184 million in August.
The total sales by the 12 reporting REITs for August of $88.6 million was above the average sales per month in Q2 2020 of $79.3 million.  In that quarter, May sales were just $58.4 million, rebounding to $86.6 million in June.
Table I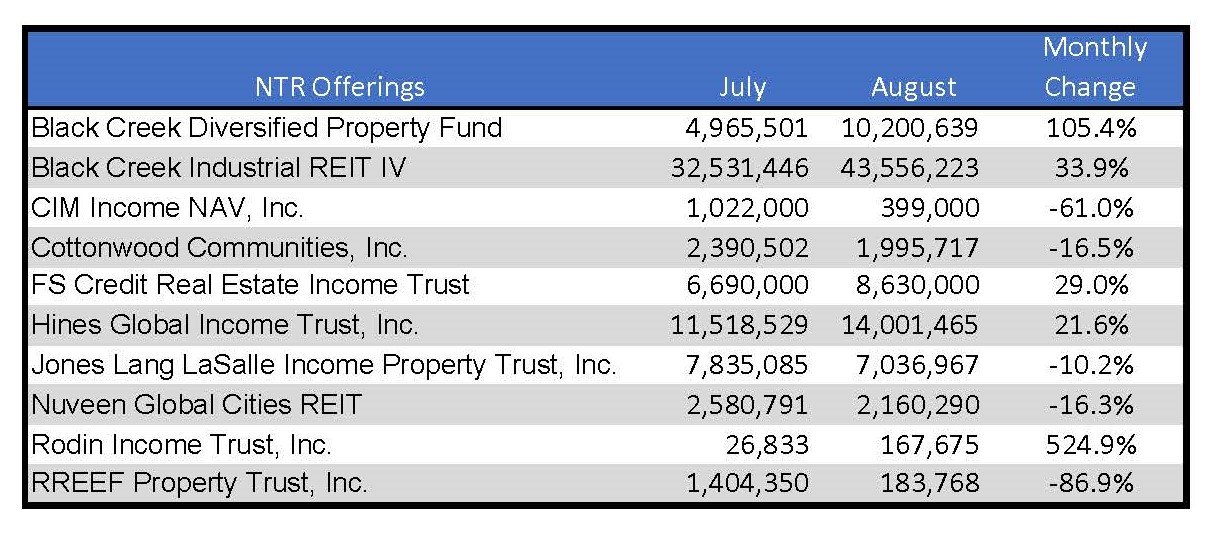 Table II shows eight-month Y-O-Y comparisons for 18 nontraded REITs that have reported sales in both 2019 and 2020.  The largest Y-O-Y increases were for Nuveen Global Cities REIT (915%) and Black Creek Industrial REIT IV (261%).
Table II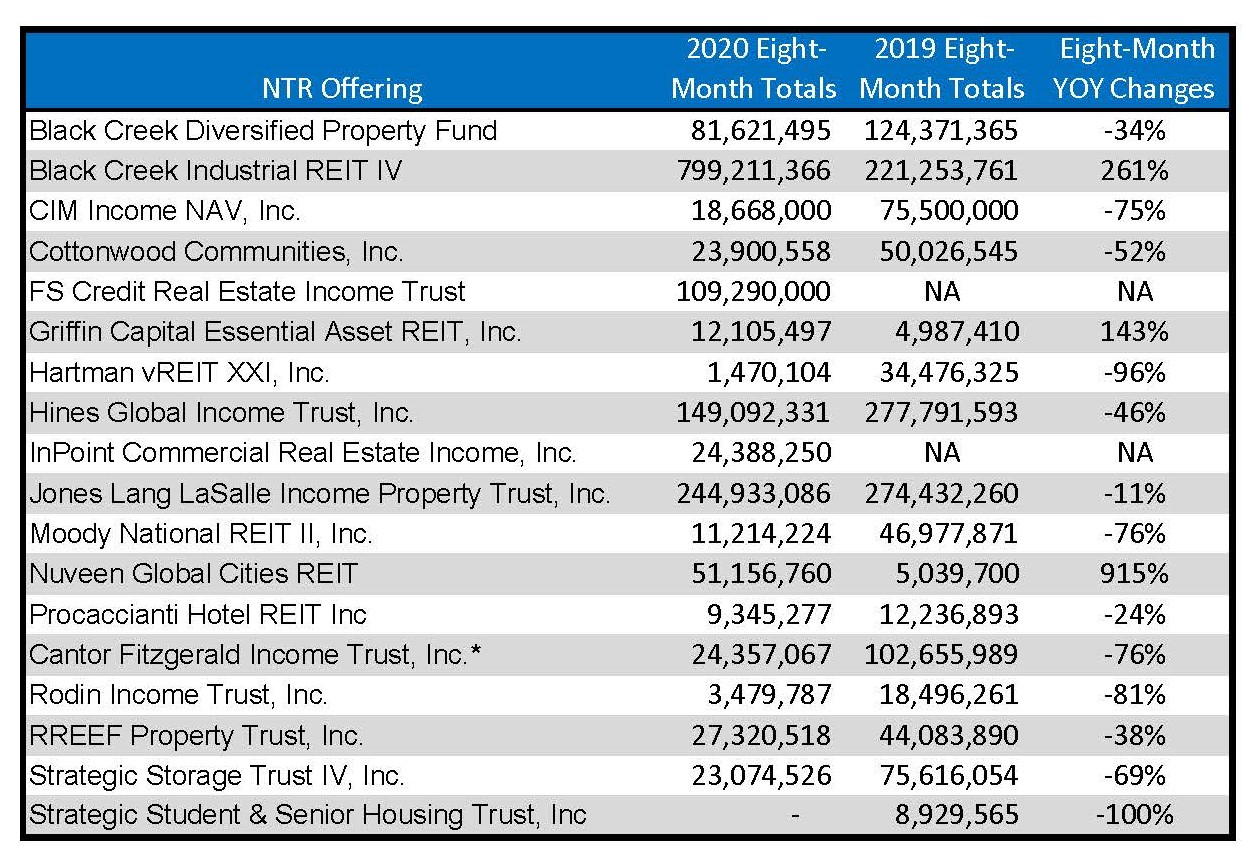 Nontraded BDC Sales
Just three nontraded BDCs were raising funds in August 2020 and reported those sales to Blue Vault. Owl Rock Capital Corporation II raised $20.28 million, up 24% from $16.33 million in July. MacKenzie Realty Capital reported nontraded BDC sales in August of $0.015 million, down 58% from $0.036 million in July. Prospect Flexible Income Fund did not report sales for July but reported $156,000 for August.  The total capital raise reported by three nontraded BDCs for August 2020 was $20.45 million compared to $16.37 million reported by those same BDCs for July.
Nontraded Preferred Stock Issued by Listed REITs
Five listed REITs reported their nontraded preferred stock issuances in August to Blue Vault, and unlike the nontraded REIT sales, the trends overall were negative. Bluerock Residential Growth REIT issued $19.20 million of its preferred stock in August, down 7.6% from $20.77 million in July. CIM Commercial Trust issued $6.02 million of its nonlisted preferred in August, up 66% from its July total of $3.62 million. Preferred Apartment Communities issued $11.92 million in PAC Preferred A1 and M1 shares in August, down 18% from the $14.54 million issued in July. Gladstone LAND and Gladstone GOOD issued a total of $2.55 million in nontraded preferred in August, down from $3.35 million in July. Altogether, the five listed REITs issued $39.7 million in nontraded preferred shares in August, down 6.2% from the total for the same REITs of $42.3 million in July.
Go Back
Loreen M. Gilbert, CIMA, AIF, CRC, CLTC - President, WealthWise Financial Services
Blue Vault
Our firm has been using Blue Vault from the first year it was available.
We have found it to be a valuable tool to verify what wholesalers tell us and to dig deep into how the reported investments are really performing.
We appreciate that Blue Vault has expanded its services from initially covering REIT's to now also including BDC's.
Our clients also appreciate that we conduct this additional due diligence on their behalf.