Continuously Offered Nontraded REITs Increase NAVs in January
February 23, 2021 | James Sprow |Blue Vault
There are 14 nontraded REITs that currently update their estimated NAVs per share either daily or monthly. As of February 23, 2021, 13 of the 14 had published NAVs valued as of the January 31, 2021 date. For those 13 NTRs, the average increase in NAVs from December 31, 2020, to January 31, 2021, was 0.30%. The median increase in NAVs was 0.17%. Nuveen Global Cities REIT, Inc. had the largest increase in the NAV for its Class I shares at +1.03%. The second largest monthly increase in NAV for Class I shares was Blackstone Real Estate Income Trust, Inc. whose Class I share NAV increased 0.96% month-to-month.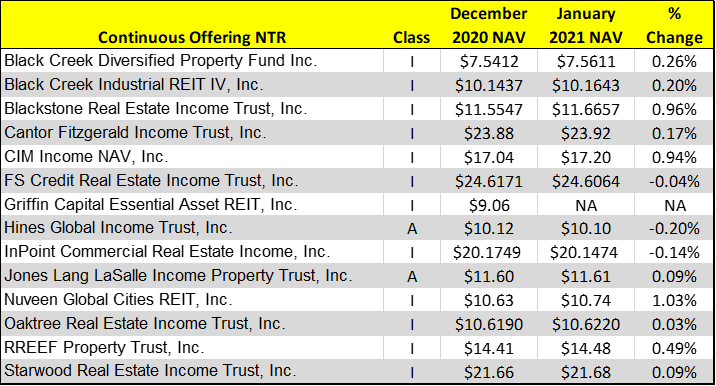 Source: SEC
Go Back
Second Annual Blue Vault Broker Dealer Educational Summit 2016
Broker Dealer Educational Summit 2016
The Blue Vault Summit could not have been more perfectly timed. This gathering of the Broker Dealer and Sponsor communities provided insightful and open discussion from several vantage points. These conversations are paramount, especially in a time of significant regulatory change.