June 2021 Nontraded REIT Capital Raise Increases 13.2% for Reporting Offerings
July 13, 2021 | James Sprow | Blue Vault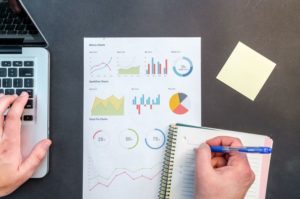 Blue Vault received June sales totals for 11 effective nontraded REIT program offerings as of July 10, 2021. Sales reported by those 11 NTRs totaled $430.29 million compared to $380.45 million for the 11 reporting REITs in May, an increase of $50.04 million, or 13.2%. Five additional nontraded REITs have previously suspended their offerings or did not report sales for April (Cottonwood Communities, Griffin Capital Essential Asset REIT, Moody National REIT II, and Strategic Storage Trust IV).
Black Creek Industrial REIT IV's offering again led the 11 reporting NTRs with sales of $163.93 million, down 13.4% from $189.24 million in May. FS Credit Real Estate Income Trust raised $74.18 million, up 44.2% from May's $51.46 million. Nuveen Global Cities REIT raised $70.35 million in June, up 156.9% from $27.38 million in May. Jones Lang LaSalle Income Property Trust raised $56.00 million, up 88.9% from May when it raised $29.64 million. Hines Global Income Trust raised $26.40 million, down 43.7% from $46.92 million in May. All sales reported include distributions reinvested in shares of the REIT (DRIP).
Table I shows month-to-month comparisons for those REITs reporting sales for June and May 2021.
Table I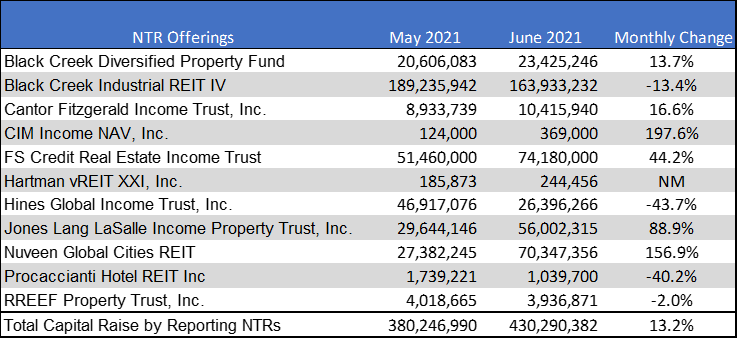 Table II shows June Y-O-Y comparisons for 13 nontraded REITs that have reported sales either in June 2020 or June 2021, or both. The most significant Y-O-Y increases were for Nuveen Global Cities REIT (+931%), FS Credit Real Estate Income Trust (+876%), Hines Global Income Trust (486%), Black Creek Industrial REIT IV (+419%) and Cantor Fitzgerald Income Trust (+417%). Other REITs with significant Y-O-Y increases were Black Creek Diversified Property Fund (+272%), Jones Lang LaSalle Income Property Trust (+167%), and RREEF Property Trust (+26%).
Table II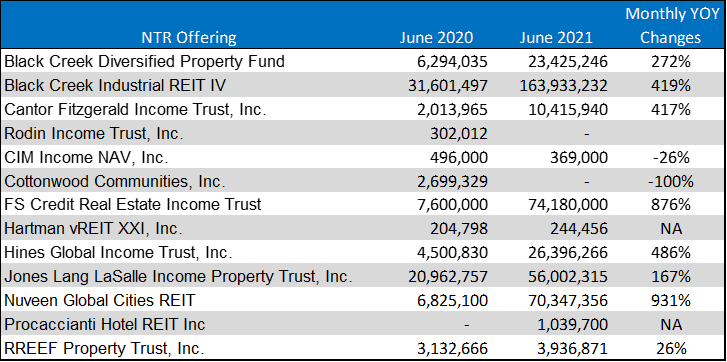 Nontraded BDC Sales
Just one nontraded BDC was raising funds in June 2021 and reported sales to Blue Vault. Owl Rock Core Income Fund raised $70.95 million in June, up 55% from $45.77 million in May. Owl Rock Capital Corporation II closed its offering in April 2021 after sales of $17.46 that month. MacKenzie Realty Capital last reported nontraded BDC sales in October 2020 of $48,700 and closed its offering in December 2020. MacKenzie recently changed its legal structure to a nontraded REIT. Prospect Flexible Income Fund last reported sales for October 2020 of $25,000 and closed its offering in February 2021. The total capital raise reported for the only one nontraded BDC for June 2021 was $70.95 million, sponsored by Owl Rock Capital Advisors, compared to $71.96 million reported by their two BDCs for April 2021, a decrease of 1.4%.
On a quarterly basis, Owl Rock BDCs raised a four-quarter total of $331.37 million from Q3 2020 through Q2 2021.  Table III and the accompanying chart show quarterly totals for reporting nontraded BDCs.
Table III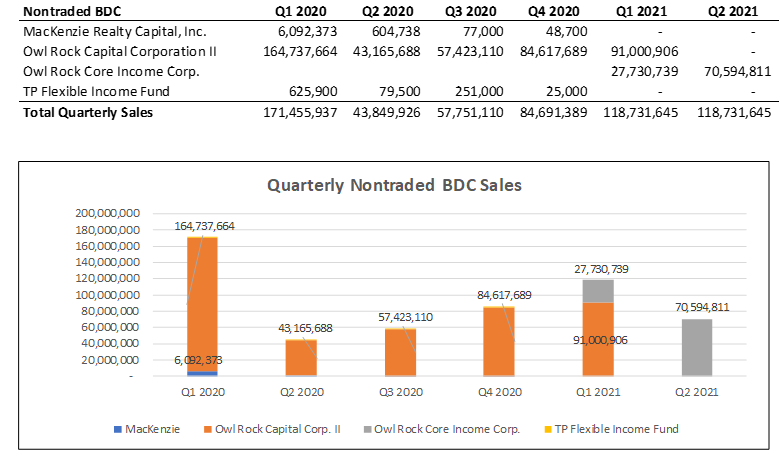 Nontraded Preferred Stock Issued by Reporting Sponsors
Three listed REITs reported their nontraded preferred stock issuances in June 2021 to Blue Vault. The three listed REITs reported total sales of nontraded preferred in June of $73.57 million, down 33.3% from $110.34 million in May. Bluerock Residential Growth REIT issued $37.86 million of its preferred stock June, down 49.7% from $75.23 million in May. Preferred Apartment Communities did not report their preferred issuances in June after raising $9.81 million in May.  Prospect Capital issued $21.20 million of nontraded preferred in June, up 51.7% from $20.57 million issued in May. Gladstone LAND issued of $4.68 million in nontraded preferred in February 2021, and that increased 18% in March to $5.51 million and after not reporting in April or May, the company reported preferred issuances of $4.51 million in June. In June 2020 three listed REITs reported sales of $37.39 million in nontraded preferred stock, for a same-month Y-O-Y increase of 103% to the June 2021 total of $73.57 million.
Table IV shows May and June sales of nontraded preferred stock by reporting listed REITs.
Table IV

Private Placement Sales
Blue Vault received sales reports for a total of 47 private placement investment programs. The total sales for those programs was $621.99 million in June, up from $399.40 million in May, reported by 47 programs. The June total was a 55.7% increase over the total sales for May, and up 48.3% from $419.32 million in April 2021. Inland Real Estate Investment Corporation with four programs was the leading sponsor among the 16 that reported private placement sales, with $168.58 million, followed by Peachtree Hotel Group with $139.54 million and NexPoint with $87.16 million.
Table V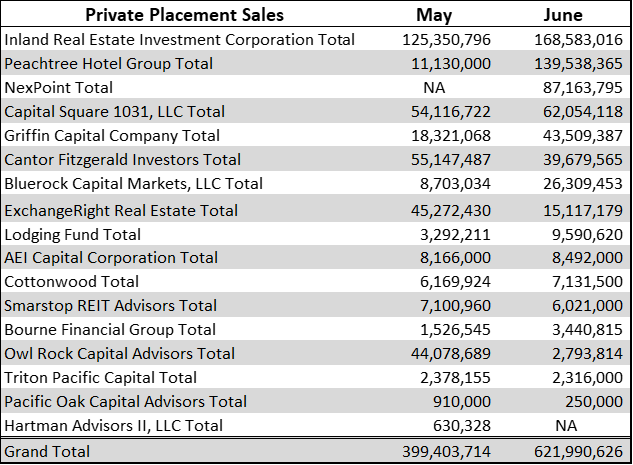 Source:  Blue Vault
Go Back
Thomas E. Burns, III
July 29, 2015
I subscribe to Blue Vault to keep up with the sponsors and their wholesalers! The analysis keeps me up to date with the various portfolios and the way they are managed, including the differences between them.