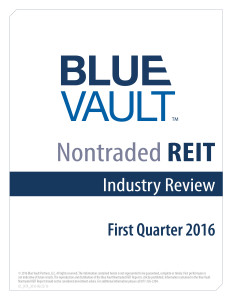 New in this report is a summary of pricing data for those REITs that have listed their common shares on public exchanges since 1997, or that have merged with other listed REITs. We track the share prices, adjusted for splits and merger terms, from the first day to one year after the listing, and up to May, 2016.  Subscribers will now be able to track nontraded REIT total return pricing and follow the REITs pricing performance each quarter.
Go Back
Thomas E. Burns, III
July 29, 2015
I subscribe to Blue Vault to keep up with the sponsors and their wholesalers! The analysis keeps me up to date with the various portfolios and the way they are managed, including the differences between them.