Reported Capital Raise by NTRs Fall to Lowest Level Since February 2021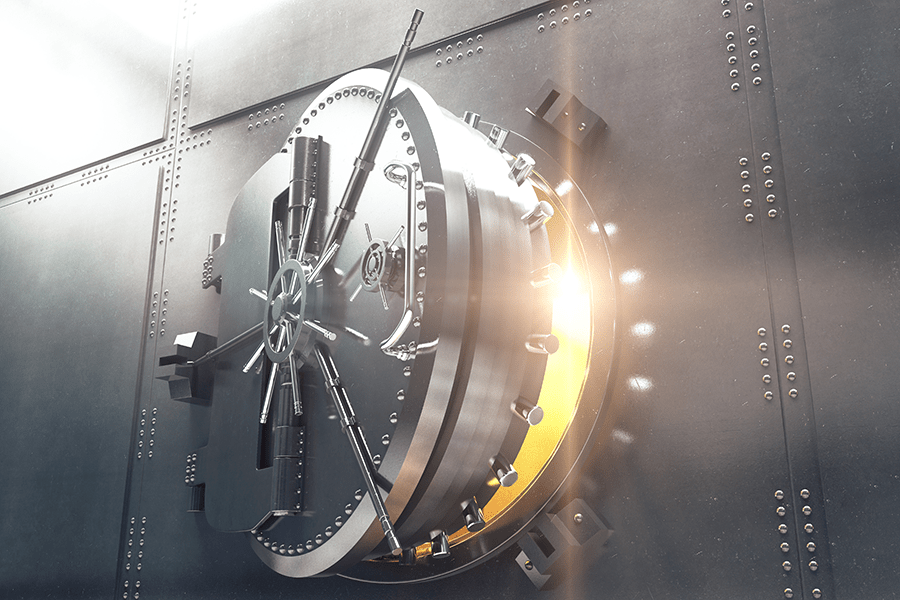 Reported Capital Raise by NTRs Fall to Lowest Level Since February 2021
March 27, 2023 | James Sprow | Blue Vault
The sale of shares by continuously-offered nontraded REITs at $140.7 million was at its lowest monthly total since February 2021. Sales by the 11 reporting REITs were down 10.4% from January 2023's total.
Table I
Chart I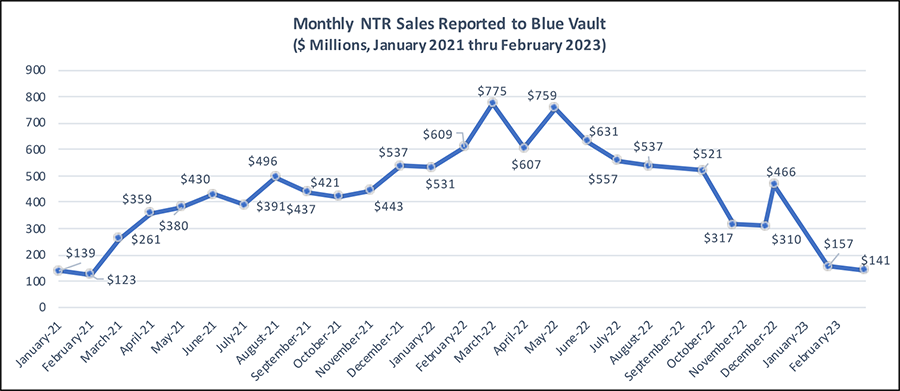 Several NAV REITs do not report monthly sales totals to Blue Vault but we can estimate their sales via 424b3 filings with the SEC that typically report each month at mid-month. For example, in a filing on March 17, 2023, Blackstone REIT reported the status of their current public offering, giving the updated shares issued at 683,838,686 as of the filing date. Subtracting the total for the February 17, 2023, filing of 669,257,302, we estimate that the REIT issued 14,581,684 shares between the two report dates, for estimated sales of around $215 million, not including DRIP proceeds. (Chart II) A March 17 424b3 filing by Starwood REIT reported 36,267,552 shares issued and sold to the date of the filing, which calculates to an issuance of 1,505,092 shares since the February 15 filing. Using the Class I NAV as of January 31, 2023, of $26.04 as an estimated selling price, we can estimate sales of roughly $39.2 million between the reporting dates. The Blackstone REIT sales appear to have rebounded from the previous monthly report, but are still down considerably, at just 7% of the number of shares issued in the March 11, 2022, report. Starwood REIT also had a steep decline in the number of shares issued, reporting issuances of just 5% of those in the March 15, 2022, filing. (Chart III)
Chart II
Chart III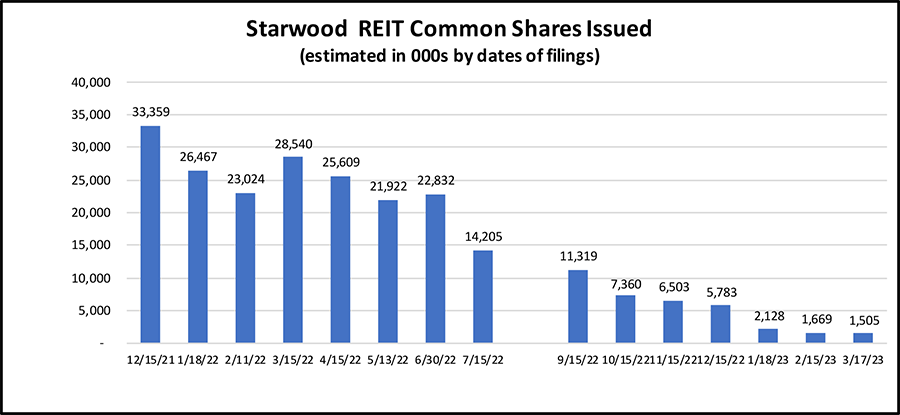 In comparisons of year-over-year capital raised by the reporting NAV REITs, the decline in sales (including DRIP) is dramatic, with a drop of 77% since February 2022.
Table II
Nontraded BDC Sales Buoyed by Owl Rock Core Income
Only one Nontraded BDC reported sales for February 2023. Owl Rock Core Income Corp. reported sales of $345.4 million in February, up 62% from $213.3 million in January. Owl Rock Technology Income Corp. did not report sales for the month.
Chart IV

Interval Fund Sales Up 19% Month-to-Month
Unlike the trend for NAV REITs, Interval Funds are recording increased capital raise for February 2023, up 19% from the total in January. The 13 reporting funds raised $272.4 million, up from $229.8 million in January. This total exceeded that of the reporting NAV REITs. Leading the group for both months was Bluerock Total Income+ Real Estate Fund which raised $83.3 million, down 15%. That fund also led all reporting Interval Funds in January at $97.4 million. Apollo Diversified Real Estate Fund raised $56.0 million in February, up 17% from the January total of $47.7 million.
Table III

Nonlisted Preferred Issuance up 78% in February
Braemar Hotels & Resorts reported sales of $78.9 million in nontraded preferred stock in February, up 169% from the January total of $29.3 million. Prospect Capital also increase their preferred stock issuances 26.5% from $41.0 million in January to $53.9 million in February. Overall, the reporting funds issued over $141.2 million in preferred stock in February, up 78.3% from the $79.2 million issued by the same group in January.
Table IV

Sources: Blue Vault; SEC; Reporting fund sponsors