Share Repurchases by Continuously Offered Nontraded REITs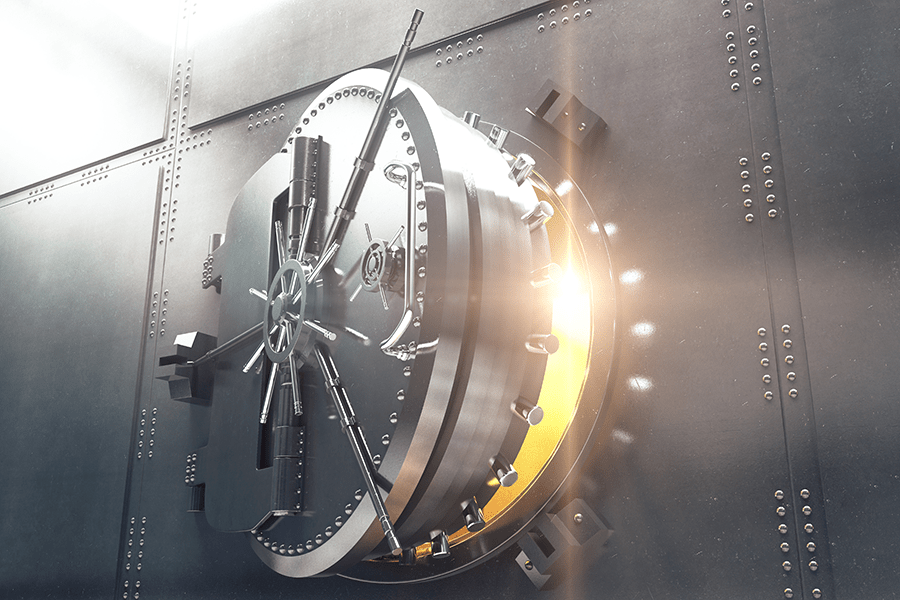 Share Repurchases by Continuously Offered Nontraded REITs
December 6, 2022 | James Sprow | Blue Vault
In a recent article we looked at the share repurchases by Blackstone Real Estate Income Trust via their share redemption program and how those repurchases have recently trended upward. The focus of that article was how the ratio of share repurchases to the REIT's total NAV (net asset value) were approaching the quarterly limits on redemptions spelled out in the REIT's prospectus. Those limits are similar across the continuously offered REITs and cap the number of shares that can be redeemed in any given quarter at 5.0% of total NAV and in any given year at 20% of total NAV.
We calculated that the shares repurchased from public shareholders by Blackstone REIT had risen to 4.6% of total NAV in the third quarter of 2022. These repurchases do not include the shares repurchased from the REIT's adviser, shares issued to the adviser as payment of management fees. The shares repurchased from Limited Partners and Special Limited Partners are not included in the limitations placed on redemptions.
In this article we look at the repurchases of common shares by six of the 14 continuously offered nontraded REITs that are currently raising capital through common share offerings. Rather than comparing the repurchases to the limits placed on redemptions in REIT prospectuses, we compare repurchases to the proceeds from the respective REIT offerings. For our purposes, we include cash flows from distribution reinvestments in common shares in the offering proceeds. While the gross dollars included in both repurchases and common stock issuances have increased considerably in volume over the 11 quarters in the following chart, the ratios of repurchases to offering proceeds are rather striking.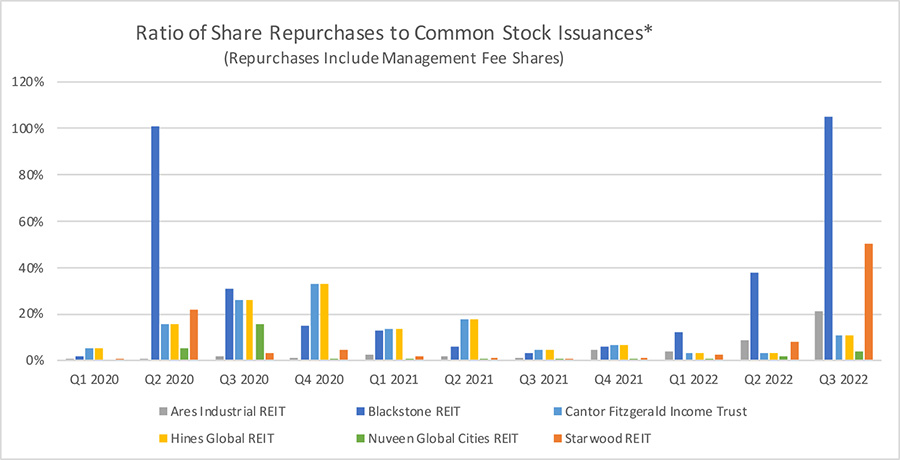 In two quarters, Q2 2020 and Q3 2022, Blackstone REIT has used more funds to repurchase shares than total offering proceeds, including DRIP. In Q3 2022, the REIT had proceeds from the issuance of common stock of $3.30 billion and repurchases of common stock totaling $3.47 billion, a ratio of repurchases to issuances of 105.1%. No other continuously offered nontraded REIT comes close to that ratio. Starwood
REIT had stock issuance in the quarter totaling $803.4 million and repurchases of common stock of $503.5 million, a ratio of 50.1%. For the other four REITs in the chart above, the highest ratio for any quarter of repurchases to issuances was by Hines Global REIT in Q4 2020 when that ratio reached 32.9%.

Looking at the total repurchase as a percentage of issuances over the 11 quarters in our study, Blackstone REIT leads the group of six REITs with a ratio of 18.8%. Cantor Fitzgerald Income Trust is next with a ratio of 7.9%, followed by Hines Global REIT at 6.8%. Nuveen Global Cities REIT had the lowest ratio over this time period at 1.15%.
As in the previous article that focused just on Blackstone REIT's repurchases, this surprising trend of repurchases comprising a large ratio of stock issuances may be of concern going forward. The stark differences in these ratios between Blackstone REIT and its peer group needs to be monitored.
* Proceeds from issuance of common stock net of subscriptions received in advance.
Sources: S&P Global, Blue Vault, SEC