Cantor Fitzgerald and Silverstein Properties Announce the Closing of a $165 Million Construction Loan for 44-01 Northern Boulevard in Astoria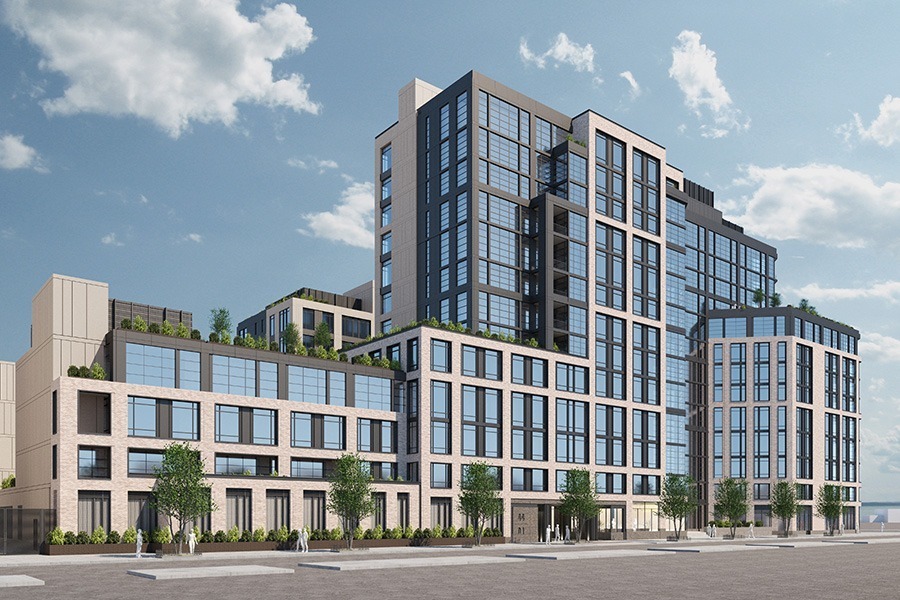 Cantor Fitzgerald and Silverstein Properties Announce the Closing of a $165 Million Construction Loan for 44-01 Northern Boulevard in Astoria
March 1, 2023 | Cantor Fitzgerald, L.P.
Affiliates of Cantor Fitzgerald, L.P., ("Cantor Fitzgerald") a leading global financial services firm and real assets investment company, and Silverstein Properties ("Silverstein") a leading global full-service real estate development, investment, and management firm, announce the closing of construction financing for 44-01 Northern Boulevard, a project that Cantor Silverstein Opportunity Zone Trust, Inc. is invested in.
Cantor Fitzgerald and Silverstein arranged a $165 million construction loan from Banco Inbursa for the development of a 354-unit multifamily property located on a 63,000 square-foot lot in the Astoria neighborhood of Queens, New York City. The development allocates 25% of the rental units as affordable housing and will include 25,000 square feet of retail. Silverstein Properties, developer for the project, commenced construction in Spring 2022 and foundation work is nearing completion. The building is expected to welcome residents in Spring 2024.
"As developers of outstanding projects, we are excited to be part of Astoria's vibrant future by offering residents a premier property with market-rate and affordable housing as well as a host of amenities," said Marty Burger, CEO of Silverstein Properties. "We've gotten to know many incredible people in this community over the past few years through our planning for Innovation QNS, and that's why we believe so strongly in Astoria."
"In an environment of cautious construction lending and inflation hikes increasing the cost of debt, making it more expensive to borrow money, we appreciate Banco Inbursa's recognition of the strength of the Cantor Fitzgerald and Silverstein partnership and the quality of this asset," said Chris Milner, Head of Real Estate Investment Management at Cantor Fitzgerald Asset Management. "We are thrilled to have completed this transaction and to move forward with the construction of 44-01 Northern Boulevard."
Designed by Hill West Architects, the building will include a mix of one and two bedroom units; approximately 20,000 square feet of amenities; 200 parking spots; and 25,000 square feet of retail facing Northern Blvd. The design pays homage to Queens' industrial past with a timeless composition of masonry and blackened metal by taking cues from the immediate context. Upon arrival through the car court, residents will be greeted by a welcoming lobby and cascading gardens. At the upper level of the gardens is an expansive lawn connecting back to the second-floor amenities opening up to a gym, yoga studio, children's playroom and resident lounge. The second amenity level is located on the 10th floor, providing panoramic views of the Manhattan skyline from the co-working lounge, library and chef's kitchen leading out to a rooftop deck.
Cantor Fitzgerald and Silverstein entered into a joint venture focused on acquiring and developing real estate projects located in opportunity zones in early 2019. Their opportunity zone development portfolio includes eight projects under development across seven states expected to be comprised of 2,769 residential units and a 250,000 square foot life science facility, totaling an estimated $2.0 billion in project costs.
Cantor and Silverstein have a well-established relationship. Notably, the two firms share a historical connection to the tragic events of 9/11 at the World Trade Center and played central roles in the recovery that followed. This joint venture partnership is a natural extension of the companies' shared history and underscores both firms' commitment to rebuilding and supporting communities in need.
# # #
About Cantor Fitzgerald, L.P.
Cantor Fitzgerald, with over 12,000 employees, is a leading global financial services group at the forefront of financial and technological innovation and has been a proven and resilient leader for over 77 years. Cantor Fitzgerald & Co. is a preeminent investment bank serving more than 5,000 institutional clients around the world, recognized for its strengths in fixed income and equity capital markets, investment banking, SPAC underwriting and PIPE placements, prime brokerage, commercial real estate, and infrastructure, and for its global distribution platform. Cantor Fitzgerald & Co. is one of the 25 primary dealers authorized to transact business with the Federal Reserve Bank of New York. Cantor Fitzgerald is a leading SPAC sponsor, having completed multiple initial public offerings and announced multiple business combinations through its CF Acquisition platform. For more information, please visit www.cantor.com.
About Cantor Fitzgerald Asset Management
Cantor Fitzgerald Asset Management's robust investment platform consists of mutual funds, interval funds, exchange-traded funds, separately managed accounts, unified managed accounts, non-traded REITs, opportunity zone funds, 1031 and 721 exchange vehicles, and other private investment vehicles managed on behalf of high net worth and institutional investors. The experience and knowledge of its senior leadership and portfolio management teams combined with the financial services prowess of industry leader, Cantor Fitzgerald, enable the delivery of a platform of solutions across a comprehensive range of capabilities.
About Silverstein Properties
Silverstein Properties is a privately held, full-service real estate development, investment and management firm based in New York founded by Larry Silverstein. Silverstein Properties has developed, owned and managed more than 40 million square feet of commercial, residential, retail and hotel space. Recent projects include 7 World Trade Center, the first LEED-certified office tower in New York City (2006), 4 World Trade Center (2013), the Four Seasons Downtown (2016), One West End (2017) and 3 World Trade Center (2018). The company has been recognized as one of the "Best Places to Work in New York City" by Crain's New York Business for eight years in a row. For more information on Silverstein Properties, please visit: www.silversteinproperties.com.
Media Contacts:
Cantor Fitzgerald
Media Inquiries
(212) 938-5000
mediainquiries@cantor.com
Silverstein Properties
Dara McQuillan
212.551.7352
dmcquillan@silvprop.com