The McBride Cohen Company, Cantor Fitzgerald & Silverstein Properties Announce the Closing of a $223 Million Construction Loan for Multifamily Development in Tempe, Arizona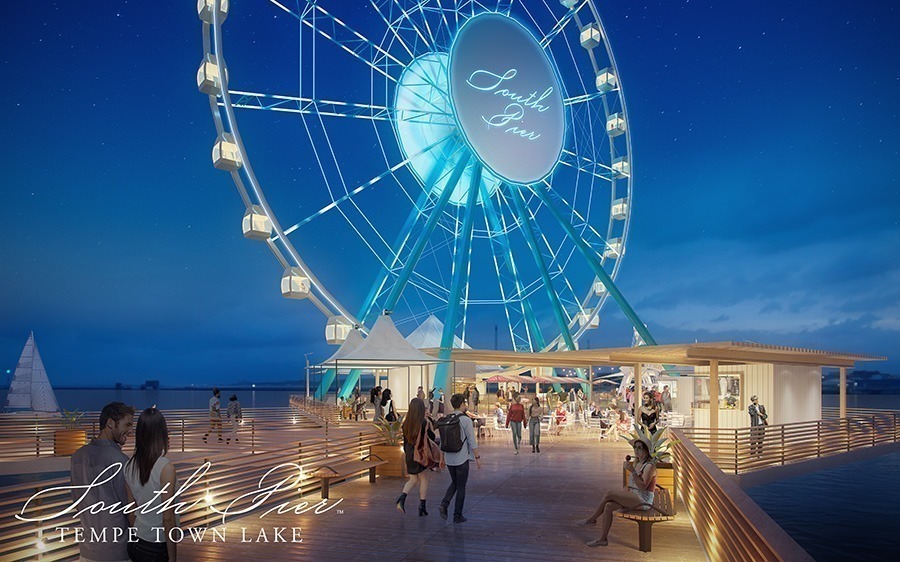 The McBride Cohen Company, Cantor Fitzgerald & Silverstein Properties Announce the Closing of a $223 Million Construction Loan for Multifamily Development in Tempe, Arizona
May 22, 2023 | Cantor Fitzgerald
Affiliates of The McBride Cohen Company ("McBride Cohen") a preeminent real estate development company, Cantor Fitzgerald, L.P., ("Cantor Fitzgerald") a leading global financial services firm and real assets investment company, and Silverstein Properties ("Silverstein") a leading global full-service real estate development, investment, and management firm, announce the latest closing of construction financing for the first phase of South Pier at Tempe Town Lake, an investment of Cantor Silverstein Opportunity Zone Trust, Inc.
$223 million in construction financing was secured from Banco Inbursa and Pearlmark to develop the first phase of South Pier at Tempe Town Lake in Tempe, Arizona. The project, which includes three residential high-rise towers with 724 rental units and 26,000 square feet of retail space on 3.3 acres, represents the first phase of a comprehensive master-planned development on Tempe Town Lake.
Seattle-based McBride Cohen is leading the development of the project, with The Davis Experience as the project architect and Clayco as the general contractor. Construction on the site began in January 2023 and completion is expected by Spring 2026.
"The closing of this construction loan is another step toward delivering a world-class waterfront destination that will benefit the entire region," said Loren McBride Cohen, CEO of McBride Cohen. "We thank our partners at Cantor Fitzgerald & Silverstein for their belief in this project and are hard at work making this dream a reality."
"This project is a significant piece of Tempe's evolving waterfront landscape," said Chris Milner, Head of Real Estate Investment Management at Cantor Fitzgerald, L.P. "We are pleased to have completed this transaction with Banco Inbursa and Pearlmark and to move forward with McBride Cohen on the construction of the three towers at South Pier at Tempe Town Lake."
Located along the southern bank of Tempe Town Lake and adjacent to the main campus of Arizona State University ("ASU"), the project is being designed to be the future of waterfront living in the Phoenix Valley. The project is within Tempe's office market, surrounded by the larger Novus Innovation Corridor, a planned 330-acre mixed-use urban master plan being developed by ASU, and walkable to an abundance of entertainment and recreational options, including the Mill Road entertainment district.
Residents of South Pier will enjoy an unparalleled living experience with condominium-quality finishes, The Central Green, a lush, 2-acre public park at the heart of the project, along with fitness centers, spas, pools, and doorstep access to other waterfront amenities, including the South Pier Isle Entertainment District – featuring a dozen eateries and nightlife venues. The planned unit mix of the project's 724 units includes studios and one-, two-, and three-bedroom apartments within three high-rise towers – measuring 23, 22 and 24 stories all being built above a four-story parking structure containing 836 parking spaces.
McBride Cohen is the master developer of South Pier at Tempe Town Lake and controls the seven-phase development through an agreement with the City of Tempe for a comprehensive resort inspired mixed-use master plan. The multibillion-dollar mixed use development project will transform the Tempe Town Lake waterfront and include 18 total buildings constructed in phases over 8-12 years. Future phases will include thousands of additional residential units, 600,000+ square feet of high-rise office space, two hotels, as well as a dynamic dining and shopping scene as part of the iconic South Pier Isle: a multi-acre entertainment district including restaurants, nightlife experiences, concert venues, fountain shows, and the Arizona Amazing Wheel, an 80-meter-tall observation wheel.
"We are excited to be part of Tempe's vibrant future with this incredible development," said Jeffrey Deitrich, Senior Vice President, Fund Management of Silverstein Properties. "South Pier at Tempe Town Lake will transform the area into a dynamic community and premier recreational destination in the greater Phoenix area."
The McBride Cohen Company is comprised of vertically integrated affiliates with a 55-year track record of bringing ambitious real estate projects to life. Led by its owner and CEO Loren McBride Cohen, the company's focus is developing world-class, resort-inspired mixed-use neighborhoods and creating welcoming spaces and places that elevate the way people live, work, and play.
Cantor and Silverstein launched an opportunity zone business in early 2019 to invest in, develop, redevelop, and manage a diversified portfolio of institutional quality commercial real estate assets with an emphasis on multifamily properties located in qualified opportunity zones in the United States.
About The McBride Cohen Company
McBride Cohen is a vertically integrated North American real estate development company focused on developing mixed-use residential master plans and entertainment districts in leading real estate markets. With active projects in many major growth markets across the United States and Mexico, the company is led by its owner and CEO, Loren McBride Cohen. As a vertically integrated development company, The McBride Cohen Company offers in-house design, development & construction management services, with active project pursuits totaling nearly $10 billion in value. For more information, please visit www.McBrideCohen.com.
About Cantor Fitzgerald, L.P.
Cantor Fitzgerald, with over 12,000 employees, is a leading global financial services group at the forefront of financial and technological innovation and has been a proven and resilient leader for over 77 years. Cantor Fitzgerald & Co. is a preeminent investment bank serving more than 5,000 institutional clients around the world, recognized for its strengths in fixed income and equity capital markets, investment banking, SPAC underwriting and PIPE placements, prime brokerage, commercial real estate, and infrastructure, and for its global distribution platform. Cantor Fitzgerald & Co. is one of the 25 primary dealers authorized to transact business with the Federal Reserve Bank of New York. Cantor Fitzgerald is a leading SPAC sponsor, having completed multiple initial public offerings and announced multiple business combinations through its CF Acquisition platform. For more information, please visit www.cantor.com.
About Cantor Fitzgerald Asset Management
Cantor Fitzgerald Asset Management's robust investment platform consists of mutual funds, interval funds, exchange-traded funds, separately managed accounts, unified managed accounts, non-traded REITs, opportunity zone funds, 1031 and 721 exchange vehicles, and other private investment vehicles managed on behalf of high net worth and institutional investors. The experience and knowledge of its senior leadership and portfolio management teams combined with the financial services prowess of industry leader, Cantor Fitzgerald, enable the delivery of a platform of solutions across a comprehensive range of capabilities.
About Silverstein Properties
Silverstein Properties is a privately held, full-service real estate development, investment and management firm based in New York founded by Larry Silverstein. Silverstein Properties has developed, owned and managed more than 40 million square feet of commercial, residential, retail and hotel space. Recent projects include 7 World Trade Center, the first LEED-certified office tower in New York City (2006), 4 World Trade Center (2013), the Four Seasons Downtown (2016), One West End (2017) and 3 World Trade Center (2018). The company has been recognized as one of the "Best Places to Work in New York City" by Crain's New York Business for eight years in a row. For more information, visit: www.silversteinproperties.com.
Media Contacts:
McBride Cohen Companies
Loren M. Cohen (253)752-2185
Info@mcconstruction.com
Cantor Fitzgerald Media Inquiries
(212)938-5000
mediainquiries@cantor.com
Silverstein Properties
Rebecca Shalomoff
(212)551.7355
rshalomoff@silvprop.com