VII Peaks Capital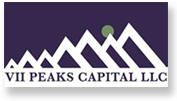 Established in 2009, VII Peaks Capital LLC is an investment management firm based in Orinda, California. Our firm invests primarily in discounted corporate fixed income securities and employs a "co-optivist"TM (co-operative activism) approach where we act as cooperative, activist investors who work with senior management teams of target companies to proactively restructure their outstanding corporate debt. Our goal is to generate alpha by working with management teams and other stakeholders to help make the corporate debt we invest in a performing security while helping the target company de-leverage its balance sheet.
VII Peaks Capital LLC is a federally registered investment advisor with the United States Securities and Exchange Commission.
About Sponsor
Founded: 2009
Management Team
Chief Executive Officer:

Gurpreet Chandhoke
Chief Operating Officer:

Rudolph Galera
Sponsored Offering(s):
BDC
Sponsor Contact Information
VII Peaks Capital LLC
Pine Grove Financial Center
4  Orinda Way, Suite 125A
Orinda, CA 94563
Phone
415-983-0127
Sponsor Snapshot
AUM*
   BDC:  $41.2 Million

Total Equity Raised**
   BDC:  $65.2 Million

Number of Liquidity Events***
   0
* Total assets for all active alternative investments at most recent quarter end.
** During offering periods, including DRIP proceeds, for all offerings.
*** As defined by Blue Vault where total liquidity has been achieved for common stock.
(Data current as of March 31, 2017)
Links
Investments Website
www.viipeakscapital.com
Recent News
Nontraded BDCs
Product Name
Effective Date
Close Date
Open / Closed
Asset Type
Industry Focus
Total Assets

Capital Raised
Liquidity

Product Name
VII Peaks Co-Optivist Income BDC II, Inc.
Effective Date
3/1/12
Closed Date

Open / Closed
Open
Asset Type
Debt
Industry Focus
Diversified
Total Assets
$41.2M
Capital Raised
$65.2M
Liquidity
SRP/Tender