Track developments in one of the fastest growing alternative investment industries...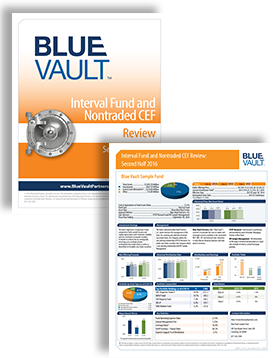 Blue Vault's Interval Fund and Nontraded CEF Review covers both interval funds and nontraded closed-end funds (CEFs). Strategies of these funds can range from real estate to hedge funds, so research on investment strategy is very important for this diverse set of alternative investments. The research covers key performance metrics, investment strategies, and the associated investment managers.
The report covers over 20 metrics and data points on individual funds including, but not limited to:
Total assets under management (AUM)
Net capital raised
Explanation of investment strategy and management team
Historical price and trends
Distribution yields
Comparisons of earnings and distributions payout
Fund operating expenses
Leverage ratios
Total return performance
Portfolio yields and return on equity (ROE)
Top portfolio holdings
Asset class holdings breakdown
Additionally, the report will summarize top-level industry information on number of existing and registered funds, total AUM, etc.
See a full-size sample page by clicking the following link.
Blue Vault Sample Fund
Blue Vault's first Interval Fund and Nontraded CEF Review covers eight funds.
Interval Funds
Bluerock Total Income+ Real Estate Fund
Griffin Institutional Access Real Estate Fund
Resource Real Estate Diversified Income Fund
Versus Capital Multi-Manager Real Estate Fund
Vertical Capital Income Fund
Nontraded CEFs
FS Global Credit Opportunities Fund
Priority Income Fund
Trilinc Global Impact Fund
Some key considerations:
Market information on the more than $15 billion industry

AUM and capital raise on the 33 active funds

Eight deep dive individual fund pages 

See what funds are currently in registration with the SEC

There are approximately 50 registered and effective Interval Funds and Nontraded CEFs, which Blue Vault will increasingly cover

32 Interval Funds
18 Nontraded CEFs

Find out the newest investment strategies and managers entering the market
Size up the marketplace and opportunities
The first IF and CEF Review is Now Available. Go to Subscriber-Only Research in the menu at the top of this page, scroll down to Interval Funds and Nontraded CEFs.
Financial Advisors whose Broker Dealers are a Blue Vault Partner may add the IF and CEF Review to their current NTR Subscription for just $50.00. All other Financial Advisors may purchase the IF and CEF Review for $125.00 or add it to an existing Blue Vault subscription for $50.00. To purchase this new report, email Dawn McDaniel or call her at 678-456-4787.
If you are a sponsor, Broker Dealer, real estate investment company, investment bank, or any other entity other than a financial advisor with a retail book of business or a retail investor, please contact Brooke Heffington with Blue Vault by email or phone at 678-456-4290 for more information on pricing.
---
In addition to Blue Vault's Interval Fund and Nontraded CEF Review, Blue Vault provides education content and industry news and updates via:
The Vault…Blue Vault's online library of historical data, providing subscribers with over 1,500 individual research pages and over 18 quarterly Reviews, dating back to the 4th quarter of 2009.
Blue Vault's NewsWire…delivered three times per week via email, this newsletter is designed to keep you informed of breaking and pertinent nontraded REIT industry news via third-party articles.  Each NewsWire also contains a Blue Vault factoid, a one-to two-sentence relatively unknown fact related to the industry, to keep you engaged and informed.
Blue Vault does not offer investment advice and does not make, buy, or sell recommendations for any of the interval funds and nontraded closed-end funds monitored.