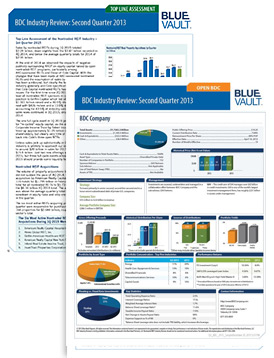 The BDC Industry Review consolidates data from public sources into a user-friendly format.  Every nontraded BDC, open and closed, is included in Blue Vault's quarterly Review until there is a full and complete liquidity event. Each report includes:
18 key performance metrics with peer comparisons for more than 17 individual nontraded BDCs (open and closed)
Analysis of performance by total returns, portfolio-level performance, distribution coverage, and operating expenses
Comparisons of fees, total returns, and distribution yield by fund
Additional notes covering key highlights for each fund
Overviews of individual fund strategies, the management teams, and sponsors
Commentary on the private debt and private equity markets, BDC regulations, as well as commentary on the broader capital markets landscape
Tracking of new registrations
Overview of liquidity events
Numerous pages of informative industry data
Purchase your Nontraded BDC Review subscription today!
In addition to Blue Vault's quarterly Review, BDC subscribers also receive access to:
The Vault…Blue Vault's online library of historical data, providing subscribers with over 1,500 individual research pages and over 18 quarterly Reviews, dating back to the 4th quarter of 2009.
Blue Vault's NewsWire…delivered three times per week via email, this newsletter is designed to keep you informed of breaking and pertinent nontraded REIT industry news via third party articles.  Each NewsWire also contains a Blue Vault factoid, a one-to two-sentence relatively unknown fact related to the industry, to keep you engaged and informed.
Blue Vault's Nontraded BDC Annual Brief —Year in Review… published annually, the Brief provides subscribers with a "year in review" of the most significant nontraded BDC industry highlights that occurred during the previous year.  The Brief also includes Blue Vault's opinions and best estimates of what the new year will hold for nontraded BDCs.
Blue Vault does not offer investment advice and does not make buy or sell recommendations for any of the nontraded BDCs monitored.