Bluerock Residential On Track to be Net Acquirer in 2017
July 18, 2017 | REIT.com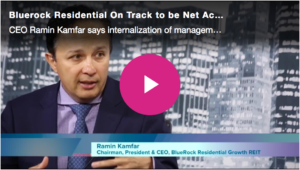 Ramin Kamfar, chairman, president and CEO of Bluerock Residential Growth REIT, Inc. (NYSE: BRG), joined REIT.com for a video interview at REITWeek2017: NAREIT's Investor Forum at the New York Hilton Midtown.
Kamfar said he expects Bluerock to be a net acquirer of properties this year. He pointed out that millennials are forming households at a rate of about 2 million a year. Of that group, 70 percent will rent and stay in rental properties for a period of 10 years or longer, he noted.
"That is a big tailwind for our industry and is going to generate a tremendous amount of demand over the next decade," Kamfar said.


Learn more about Bluerock on our Sponsor Focus page.

Bluerock Hires Industry Powerhouse as CEO of Bluerock Capital Markets
Bluerock's Total Income+ Real Estate Fund Marks Fourth Year of Strong Risk-Adjusted Returns
Bluerock Expands Distribution Team, Hires Tim Hughes, Jack Wood and Carla Martin
Go Back
I have been using Blue Vault Partners for the past five years.  I have found them to be a valuable, unbiased resource when it comes to evaluating and comparing non-traded REITs.  The reports help me analyze which sponsors are doing a responsible job of managing their offerings.  This allows me to limit my REIT recommendations to only the most competitive products, and then track those REITs throughout their life cycle.