Bluerock Residential On Track to be Net Acquirer in 2017
July 18, 2017 | REIT.com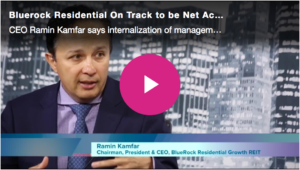 Ramin Kamfar, chairman, president and CEO of Bluerock Residential Growth REIT, Inc. (NYSE: BRG), joined REIT.com for a video interview at REITWeek2017: NAREIT's Investor Forum at the New York Hilton Midtown.
Kamfar said he expects Bluerock to be a net acquirer of properties this year. He pointed out that millennials are forming households at a rate of about 2 million a year. Of that group, 70 percent will rent and stay in rental properties for a period of 10 years or longer, he noted.
"That is a big tailwind for our industry and is going to generate a tremendous amount of demand over the next decade," Kamfar said.


Learn more about Bluerock on our Sponsor Focus page.

Bluerock Hires Industry Powerhouse as CEO of Bluerock Capital Markets
Bluerock's Total Income+ Real Estate Fund Marks Fourth Year of Strong Risk-Adjusted Returns
Bluerock Expands Distribution Team, Hires Tim Hughes, Jack Wood and Carla Martin
Go Back
Loreen M. Gilbert, CIMA, AIF, CRC, CLTC – President, WealthWise Financial Services
Blue Vault
Our firm has been using Blue Vault from the first year it was available.
We have found it to be a valuable tool to verify what wholesalers tell us and to dig deep into how the reported investments are really performing.
We appreciate that Blue Vault has expanded its services from initially covering REIT's to now also including BDC's.
Our clients also appreciate that we conduct this additional due diligence on their behalf.