Cantor Fitzgerald Announces the Sale of Rivertop Apartments in Nashville, Tennessee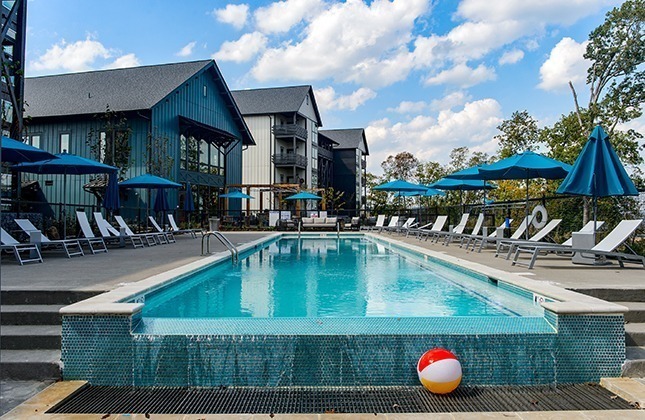 Cantor Fitzgerald Announces the Sale of Rivertop Apartments in Nashville, Tennessee
January 19, 2022 | Cantor Fitzgerald, L.P.
Cantor Fitzgerald, L.P. ("Cantor Fitzgerald"1) announced the sale of Rivertop Apartments in Nashville, Tennessee. The sale was facilitated on behalf of investors in Rivertop Apartments, resulting in a total return of 137% of their aggregate original investment and an internal rate of return of 12% over the approximately three-year hold period.2
Completed in 2019, Rivertop Apartments is a 224-unit, Class-A apartment community featuring elegant interior finishes and an expansive amenity set, including a resort-style pool, 24-hour fitness center, and a pet spa. The property is approximately eight miles west of downtown Nashville, along the I-40 corridor, providing accessibility to major employment centers, universities, retail centers, and lifestyle amenities.
"Rivertop Apartments is uniquely located on an elevated site with scenic views of the Cumberland River within the vibrant Nashville market," said Aaron Wessner, Managing Director, Head of Capital Markets, Cantor Fitzgerald Asset Management. "Over the past three years, we successfully executed the business plan to optimize operations for this high-quality property and are pleased to have delivered an attractive return for investors."
As of December 31, 2022, Cantor Fitzgerald's real estate investment portfolio comprises over 7,900 stabilized multifamily units plus over 2,500 units under development, and over 8.1 million square feet of office, industrial, life science, and retail space across 147 properties. For the 12-month period ending September 30, 2022, Cantor Fitzgerald participated in more than $155 billion of total real estate transactions.3
1 Cantor Fitzgerald refers to Cantor Fitzgerald, L.P., its subsidiaries, including Cantor Fitzgerald & Co., and its affiliates including BGC Partners (NASDAQ: BGCP) and Newmark Group (NASDAQ: NMRK).
2 Calculated inclusive of sale proceeds, cash, distributions, and an estimated release of retained reserves for aggregate investors.
3 Real estate transactions include the activity of our affiliate, Newmark.