ExchangeRight Expands Broker-Dealer and RIA Relations Team With Tom Purpura, SVP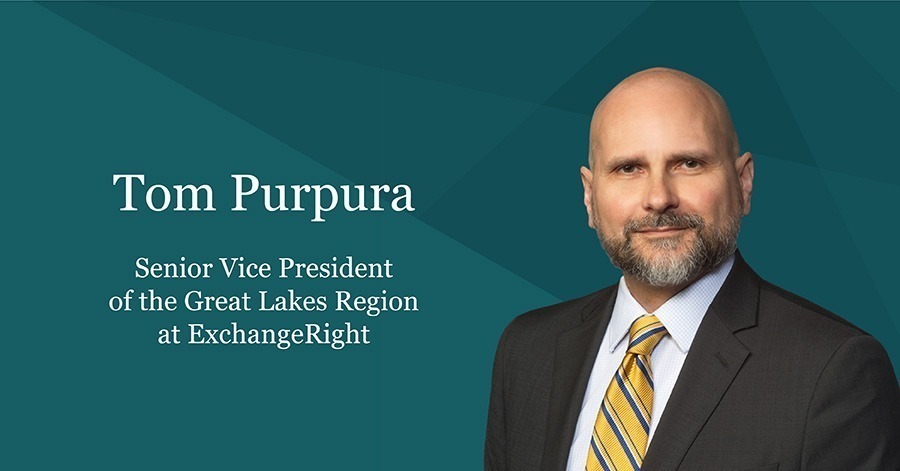 ExchangeRight Expands Broker-Dealer and RIA Relations Team With Tom Purpura, SVP
May 18, 2023 | ExchangeRight
ExchangeRight, one of the nation's leading providers of diversified real estate DST and REIT investments, has announced it has expanded its Broker-Dealer and RIA Relations team with the hiring of Tom Purpura as senior vice president of the Great Lakes region. Purpura will serve advisors, representatives, and investors in Arkansas, Illinois, Indiana, Iowa, Michigan, Minnesota, Missouri, and Wisconsin.
"Adding Tom to our already exceptional team will help us to better serve representatives, advisors, and investors in the Great Lakes region," said Warren Thomas, one of the managing partners of ExchangeRight. "We are grateful to have Tom join our efforts to empower people to be secure, free, and generous."
Purpura is a graduate of Walsh University in Canton, Ohio, with degrees in Finance and Business. He currently holds Series 6, 7, 24, and 63 licenses with the Financial Industry Regulatory Authority (FINRA).
In his position, Purpura will focus on supporting the investment needs of advisors, representatives, and their clients, with a specialization in ExchangeRight's REIT and 1031 DST portfolios.
"ExchangeRight is well known in the alternatives industry for its perfect track record of meeting or exceeding expectations even through economic downturns," Purpura said. "I'm looking forward to doing my part to support advisors and representatives with ExchangeRight's unique approach of creating investments that put investors first by targeting secure capital, stable income, and strategic exits."
ExchangeRight and its affiliates' vertically integrated platform features more than $5.5 billion in assets under management that are diversified across over 1,100 properties, 22 million square feet, and 47 states. More than 7,600 investors have trusted the company to manage their capital.
About ExchangeRight
ExchangeRight pursues its passion to empower people to be secure, free, and generous by providing REIT, fund, and 1031 DST portfolios that target secure capital, stable income, and strategic exits. The company structures and manages net-leased portfolios of assets backed primarily by investment-grade corporations that successfully operate in the necessity-based retail and healthcare industries, as well as diversified value-add portfolios of inline and outparcel retail properties shadow-anchored by strong-performing grocery tenants. Past performance is not indicative of future results. Please visit www.exchangeright.com for more information.
Media Contact
Lindsey Thompson
Senior Media Relations Officer
lthompson@exchangeright.com
(626) 773-3448