Hoteliers Look Forward to a Full Recovery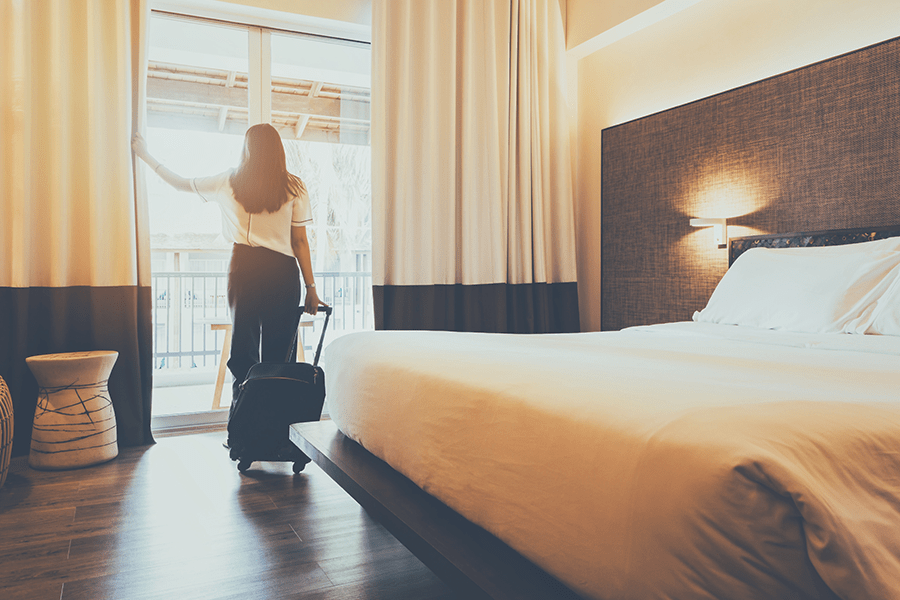 Hoteliers Look Forward to a Full Recovery
June 13, 2022 | Paul Bergeron | GlobeSt.com
Hoteliers are poised for a full recovery from pandemic challenges with room rates within 3 percent of their all-time high and occupancy up 2,000 basis points from its pandemic lows, according to a report from Marcus & Millichap.
Accommodation employment, however, is 20 percent below pre-pandemic levels, and because hotels are struggling to service all rooms while being pressured by higher wages, they are left to hike room rates.
With mask mandates all but lifted in June, summer travel expectations are high, according to Marcus & Millichap.
Sales Volume Up 111%
Kevin Davis, Americas CEO, JLL Hotels & Hospitality Group, tells GlobeSt.com that the hospitality recovery is in full swing, with sales volume up 111% in April YTD.
"We are seeing a continuation of the strong performance of drive-to leisure resorts and are now also seeing a recovery of urban markets and hotels that cater to group and business transient demand," Davis said. 
"In fact, through the end of April, the RevPAR in urban markets has grown more than any other US market type. As more companies return to office and COVID restrictions are completely relaxed, we expect this urban recovery to strengthen." 
Summer Travel is On 
Summer travel appears ready to reappear after two lackluster years, David I. Haas, partner at Duane Morris, tells GlobeSt.com. 
"Hotels are being freed from the COVID shackles of the past 2+ years," Haas said. "Everyone seems to be traveling someplace this summer. So far, the summer travel bug is supplanting inflationary pressures on consumers who have already made their summer travel plans and are sticking with them."
Shawn Gracey, executive vice president of Key International, tells GlobeSt.com, "The hotel industry has experienced a remarkable rebound from the challenges brought by the pandemic. There is a huge pent-up demand for travel, especially in outdoor, nature-focused and coastal destinations. 
"The hospitality sector will continue to experience sustained growth with increasing domestic and international travel."
Kip Sowden, Chairman and CEO of RREAF Holdings tells GlobeSt.com that the industry has learned, with the help of COVID, that leisure and the extended stay categories are two very resilient asset classes within the hospitality space. 
"Whether it is the leisure hospitality assets or extended stay assets, these are pivotal areas that will continue to thrive despite inflationary pressure. For example, beach-front resort properties are hotels tourists are going to flock to, now that summer is here." 
Operators Better Prepared for Crisis
Ryan McAndrew, real estate senior analyst with RSM US, tells GlobeSt.com that hotel room rates held strong throughout the pandemic, especially in the economy and mid-scale segments, as hotel management and owners understood the pricing power that was given up during the Great Financial Crisis and opted to be better prepared during the recovery. 
"Hotel operators were well aware that room demand was artificially flattened due to COVID-19 lockdowns, so there was little incentive to drop rates to increase traffic," McAndrew said. "As a result, rate growth should continue for all hotel segments on the strength of leisure travel and the return of international, group and business travelers."
Paul J. Titcher, partner at Cox, Castle & Nicholson, tells GlobeSt.com, "In an inflationary environment, the ability of the hospitality sector to adjust pricing on the fly is a significant advantage."
Amenities Packages Reconsidered
BrightView's Mark Carlos, Vice President, Managing Director Design Group + Pre-Development, tells GlobeSt.com that many existing properties are analyzing the current amenities package that they offer guests and are repositioning them in response to renewed travel demands. 
"Hotel brands are looking at properties and removing outdated amenities, in some cases such elements as tennis courts are being examined to see if they are still viable and being replaced with wellness program amenities to invigorate the guest experience during their stay on property.
"The repositioning of properties follows an assessment to determine what the priorities are now. Many assets didn't place a top priority on landscaping through Covid, but now it is a priority, so they are going back through and upgrading. They are placing a priority on quality landscapes now and it is top of mind.
"We are seeing movement now in repositioning and a reanalysis of space. But we're also seeing renewed interest in ground up development. We are talking with clients about new hotel developments, so there's an up-tick in that side of the business too now. Landscapes and outdoor amenities have become top of mind for hotel brands as travel demands pick up."
Jackson Thilenius, AIA, Senior Vice President of Hospitality and Interiors Americas at RDC, tells GlobeSt.com that its clients are focused on creating hotels which function as community hubs, with hybridized solutions including experiential retail, expansive localized F&B programs, and flexible co-work integration.
"Additionally, our luxury clients are expanding their offerings to include wellness interventions, educational platforms, and proactive environmental solutions to establish values consistent with their customer base. It's an exciting time to be on the frontend of ideation around the relevant hotels of tomorrow."
Clouds Ahead 
All is not completely rosy in the industry, however. For example, many hospitality jobs were lost during the pandemic that have not been replaced. "Hotel owners and operators will continue to be challenged with increases in demand going into the fall months and the reality that nearly 600,000 hospitality jobs lost from the pandemic may never return," McAndrew of RSM US said. 
More significantly, Desi Co, Managing Partner at Accord Group, tells GlobeSt.com that due to the pandemic, "many hotel owners have faced operational difficulties and a severe reduction in incoming capital that has made it nearly impossible for them to keep up with the necessary maintenance and active management that hotels require to be profitable. 
"Even though the hotel industry is recovering, in some cases, there will not be ample time for hotel groups to be able to refinance existing debt or make the necessary capital improvements that have been neglected over the last couple years. 
This will lead to distressed hotel sales hitting the market, he said. 
There are other indications of possible difficulties ahead.  
Like Co, JLL Hotels & Hospitality Group's Davis points to dislocation in the debt capital markets, which could be a slight drag on short-term transaction volume. "We expect to see greater clarity in the capital markets in the coming months, which, coupled with significant investor appetite, should drive strong transaction volume later this year."
For his part, Duane Morris' Haas notes that while hotel performance may look stronger right now, that strength may be fleeting "as unabated high inflation and prospects for a recession take center stage after everyone gets home after the summer."