Industry Veteran, Brian Buehler, appointed CEO of Triton Pacific Securities, LLC
December 8, 2017 | Triton Pacific Securities, LLC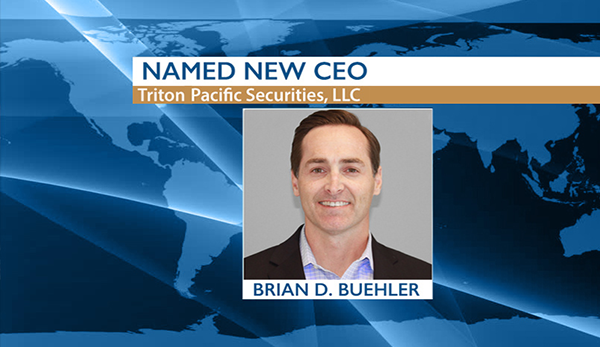 Triton Pacific Capital Partners, LLC, a private equity firm with asset and investment management services, has appointed 20+ year veteran Brian Buehler as new CEO of Triton Pacific Securities, LLC, the managing broker-dealer for Triton Pacific's suite of investment offerings.
Buehler served as President and head of distribution of Triton Pacific Securities and as a member of the affiliates' investment committee since 2015.  During his tenure, Triton Pacific has emerged as one of the industry's leading firms focused on private equity investment products. Mr. Buehler co-authored Alpha Academy, an education program designed to help financial professionals learn about private equity.  Mr. Buehler also sits on the of Board and as Secretary of Directors of The Alternative & Direct Investment Securities Association ("ADISA").  Mr. Buehler's most recent prior experience include his role as President of both United Realty Trust, Inc. ("UR"), a public non-traded REIT and its capital markets department.  Prior, Mr. Buehler served in various capacities over a 10-year period at Strategic Storage / Smart Stop with his latest position as National Sales Director.  Buehler received his B.A. from Chapman University and has more than 20 years of investment product development and distribution experience within the financial services industry with a focus on commercial real estate, alternative investments and private equity. 
"Brian's leadership over the past 2+ years have shown significant growth in the Triton Pacific's distribution platform in areas including systems, processes, and people. Brian has demonstrated his ability to continue to raise capital for Triton Pacific Investment Corporation and Tasty Brands, LP during one of the more challenging capital raising periods in our industry." said Craig Faggen, founder of Triton Pacific Group, Inc., affiliate company to Triton Pacific Securities, LLC.
In Mr. Buehler's role as CEO, he will continue to oversee the company's long-term strategies and continue to be integrally involved in the sales, selling group buildout, product and business development, the company said.
Triton Pacific, founded in 2001, is a private equity firm which has sponsored 50+ private equity programs totaling $1billion is assets and offerings and currently has two offerings available; Triton Pacific Investment Corporation; a public non-traded general fund focused on acquiring private businesses, and Tasty Brands, LP; a Reg D fund focused on consolidating national brand chain restaurants franchises.


Learn more about Triton Pacific Capital Partners, LLC on the Blue Vault Sponsor Focus page.
Go Back
Gregory De Jong, CFP, Co-Founder of Paragon Advisors, LLC.
Blue Vault is just what advisors need to size up the different offerings in the nontraded REIT market. Just as importantly, it's what the industry needs to encourage best practices among REITs.