---
JLL Income Property Trust : Acquires Industrial Portfolio in Greater Los Angeles Submarket
07/18/2016 | 4-traders.com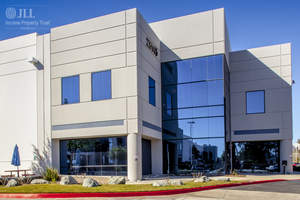 CHICAGO, IL–(Marketwired – Jul 18, 2016) – JLL Income Property Trust, an institutionally-managed, non-listed, daily valued perpetual life REIT (NASDAQ: ZIPTAX) (NASDAQ: ZIPTMX) (NASDAQ: ZIPIAX) (NASDAQ:ZIPIMX), today announced the acquisition of Valencia Industrial Portfolio, a five-building, multi-tenant warehouse portfolio located in the Greater Los Angeles submarket, the largest industrial market in the United States. The portfolio is 100 percent leased to a diverse roster of eight different national and local tenants. The purchase price was approximately $64.5 million with an estimated capitalization rate based upon purchase price of 4.9 percent.
Los Angeles is not only the largest industrial market in the U.S., with roughly 1.6 billion square feet, it also is the most sought after market by institutional investors. With an overall market vacancy rate of less than 2 percent (its lowest level in fifteen years), and new construction pipelines delivering less than 1 percent of existing stock, the industrial property market fundamentals of Greater Los Angeles are some of the strongest across all property types and markets in the country. This market appeals to users who desire to be close to the largest shipping port in the U.S. and those who are serving the nation's second largest population center. The Los Angeles market is largely built-out, with limited undeveloped land available for warehouse development and intense competition from other uses for redevelopment opportunities.
Go Back
John E. Moriarty, ChFC
December 2015
I have been in the financial services industry for 20 years and our firm provides an education platform that gets clients to "think differently" about their financial picture.  For many years we have communicated to clients the need to diversify their portfolios using alternative asset classes and more specifically, private non-traded investments.  Due diligence on these types of financial vehicles is essential and when I learned about Blue Vault in 2010, our firm immediately began using their material as a tool to build confidence in the minds of our advisors on which alternatives to recommend to clients.  I am impressed with the way Blue Vault continues to add value to their subscribers and I view their publication as a tremendous resource in today's complex world.