---
JLL Income Property Trust : Acquires Industrial Portfolio in Greater Los Angeles Submarket
07/18/2016 | 4-traders.com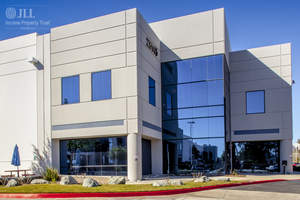 CHICAGO, IL–(Marketwired – Jul 18, 2016) – JLL Income Property Trust, an institutionally-managed, non-listed, daily valued perpetual life REIT (NASDAQ: ZIPTAX) (NASDAQ: ZIPTMX) (NASDAQ: ZIPIAX) (NASDAQ:ZIPIMX), today announced the acquisition of Valencia Industrial Portfolio, a five-building, multi-tenant warehouse portfolio located in the Greater Los Angeles submarket, the largest industrial market in the United States. The portfolio is 100 percent leased to a diverse roster of eight different national and local tenants. The purchase price was approximately $64.5 million with an estimated capitalization rate based upon purchase price of 4.9 percent.
Los Angeles is not only the largest industrial market in the U.S., with roughly 1.6 billion square feet, it also is the most sought after market by institutional investors. With an overall market vacancy rate of less than 2 percent (its lowest level in fifteen years), and new construction pipelines delivering less than 1 percent of existing stock, the industrial property market fundamentals of Greater Los Angeles are some of the strongest across all property types and markets in the country. This market appeals to users who desire to be close to the largest shipping port in the U.S. and those who are serving the nation's second largest population center. The Los Angeles market is largely built-out, with limited undeveloped land available for warehouse development and intense competition from other uses for redevelopment opportunities.
Go Back
Ramón A. Rivera-Ramos
Blue Vault Nontraded REIT and Nontraded BDC Reviews
Blue Vault helps me to stay well informed on the financial status of both open and closed nontraded REITs and BDCs, so that I can help my clients better understand the product, before they make the decision to invest and after.