Ashford Securities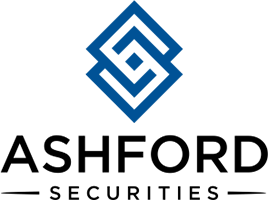 Ashford Securities is a managing Broker Dealer within the Ashford Group of Companies (Ashford). Our goal is to provide the market with highly differentiated alternative investment products focused on the lodging and hospitality sector.
Ashford is a leading owner, operator and manager in the hospitality industry. Ashford is a top five owner of Marriott Hotels and Hilton Hotels in the United States. Currently, Ashford manages to two NYSE listed real estate investment trusts, Ashford Hospitality Trust ("Ashford Trust") and Braemar Hotels & Resorts. Combined, Ashford Trust and Braemar Hotels & Resorts have 131 hotels with more than 28,000 rooms and approximately $8.1 billion in assets.
About Investment Manager
Founded: 2019
Management Team:
C. Jay Steigerwald:

President – Head of Distribution
Megan Gavin:

SVP, Head of National Accounts
Dmitriy Rutitskiy:

FINOP, PFO & POO
Sponsored Offering(s):
(See tables below)
Contact Information
Ashford Securities 
14185 Dallas Parkway
Suite 780
Dallas, Texas 75254
Phone Number
1-972-490-9600
Snapshot
AUM*
   Not available

Total Equity Raised**
   Not available

Number of Liquidity Events***
   Not available
* Total assets for all active alternative investments reported by sponsors.
** During offering periods, including DRIP proceeds, for all offerings reported by sponsors.
*** As defined by Blue Vault where total liquidity has been achieved for common stock.
Links

Ashford Reports Fourth Quarter And Year End 2019 Results
Press Releases
Ashford Announces Creation Of Dedicated Platform To Raise Retail Capital Through Financial Intermediaries And The Broker-Dealer Channel
For Financial Professional Use Only. Not for Retail Clients.