First Capital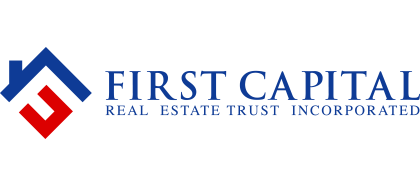 A Sacramento-based real estate investment and finance firm, First Capital acquired United Realty Advisors, the external advisor to United Realty Trust Incorporated, on September 23, 2015.
Immediately prior to its acquisition of United Realty, First Capital and its affiliates entered into an Asset Contribution Agreement with URTI pursuant to which First Capital and affiliated entities contributed 28 assets to the REIT, including 18 hotels, five retail and self-storage properties, various residential and commercial land for development, and contract rights to acquire 13 additional hotels and more than 1,000 multi-family units. The contributed assets exceed $175 million in value. Both transactions closed on September 15, 2015.
About Investment Manager
Founded: 2003
Management Team:
Suneet Singal:

Chairman & Chief Executive Officer
Sponsored Offering(s):
(See tables below)
REITs
BDCs
Contact Information
First Capital
60 Broad Street
34th Floor
New York, NY 10004-2344
Phone
800-489-4465
Email
info@firstcapitalrealestate.com
Snapshot
AUM*
   Not available
Total Equity Raised**
   Not available
Number of Liquidity Events***
   0
* Total assets for all active alternative investments at most recent quarter end, excluding full-cycle programs.
** During offering periods, including DRIP proceeds, for all offerings.
*** As defined by Blue Vault where total liquidity has been achieved for common stock.
Links

First Capital Announces Strategic Sale
First Capital Real Estate Trust Incorporated Acquires 92% Interest in a $78 Million Development Site
Nontraded REITs
Product Name
Effective Date
Close Date
Asset Type
Investments
As of Date
Effective Date
8/15/12
Closed Date
12/21/15
Asset Type
Diversified
LifeStage
Maturing
Capital Raised
$27.20M
Properties
$63.2M
Investments
Not available
As of Date
6/30/15
Liquidity
None
The company has not filed a 10-Q or 10-K with the SEC since the quarter ending June 30, 2015.
Nontraded BDCs
Product Name
Effective Date
Close Date
Open / Closed
Asset Type
Industry Focus
Capital Raised

Total Assets

As of Date
Liquidity

Effective Date
9/19/15
Closed Date
Continuous
Open / Closed
Open
Asset Type
Debt
Industry Focus
Diversified
Capital Raised
$0.1M
Total Assets
$0.1M
As of Date
12/31/16
Liquidity
SRP/Tender
The company has not filed a 10-Q or 10-K with the SEC since the quarter ending December 31, 2016