The Blue Vault database, when complete, will include data for nontraded REIT's and BDC's, Interval Funds, Closed-End Funds, Private Offerings and "other" direct participation programs; as well as historical data going back to 2009.  Currently the database includes nontraded REIT's and BDC's, Full-Cycle REIT's, Interval Funds and Private Offering data going back to 2014, additional phases are being released at regular intervals. The database makes all of this available for subscribers to sort, filter, and compare.
Each investment product – both open and closed – has an individual performance page with easy-to-navigate historical data.
Each Investment Manager also has an individual page offering more information about them and linking to their products, past webinars, news and more.
The database makes all of the Blue Vault data searchable and allows users to filter, compare, and analyze data as needed. The Advanced search feature allows users to search by offering status, Blue Vault Performance Profile, Distribution Yield, MFFO Payout and so much more.
Data points include:
Anticipated Offering Close Date
Asset Class
Asset Type
BV Performance Profiles
Capital Raise
Cash Ratio
Debt Ratio
Distribution Rate
Distribution Yield
Fixed Debt Ratio
Interest Coverage Ratio
MFFO Payout Ratio
NAV Change
Occupancy
Offering Status
Product Name
Return on Assets
Total Assets
Variable Debt Ratio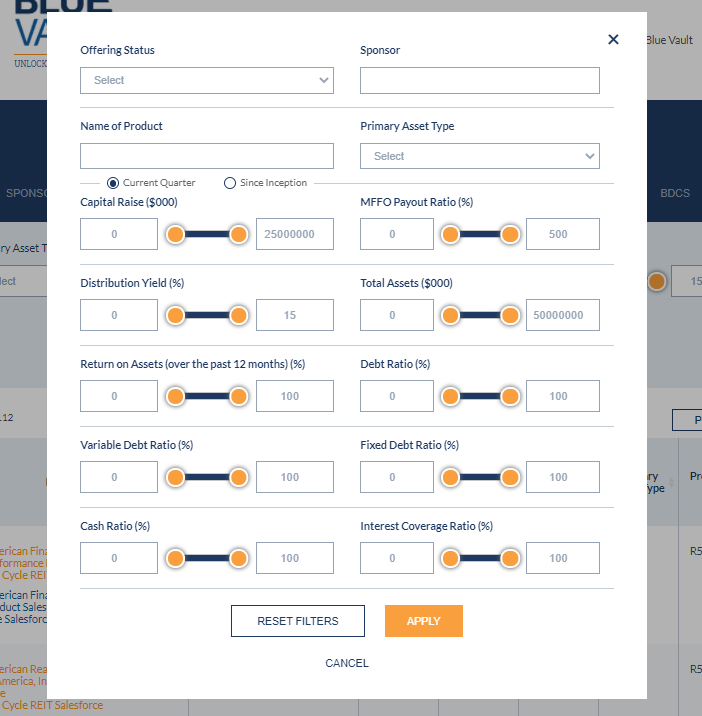 The database is updated quarterly, or as the data becomes available.
Learn more about the Blue Vault Database: 
Get access to the Blue Vault Database today:
Financial advisors with a retail book of business can visit the Blue Vault Store. Questions? Please contact Dawn McDaniel at Dawn.McDaniel@BlueVaultPartners.com or dial 678-456-4787.
Product sponsors, contact Stacy Chitty at Stacy.Chitty@BlueVaultPartners.com or 678-802-8717.
Contact Betsy Ricks at Betsy.Ricks@BlueVaultPartners.com or 678-456-4640 if you are a:
Broker Dealer
Real estate investment company
Investment bank
Retail investor
Any entity other than a sponsor or financial advisor with a retail book of business
Members of the Financial Services Institute (FSI) can inquire about your subscription discount for financial advisors and Broker Dealers only!
For information on advertising, reprint licensing or custom research, please contact Stacy Chitty at  Stacy.Chitty@BlueVaultPartners.com or 678‑802-8717.
Blue Vault Partners does not offer investment advice and does not make buy or sell recommendations for any of the nontraded REITs monitored.