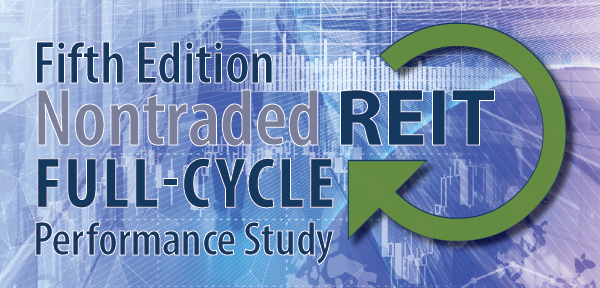 Available Now!
The Nontraded REIT Full-Cycle Performance Study is available by subscription only. Subscribers, if you are logged in, click here to access the report now.
The Nontraded REIT Full-Cycle Performance Study analyzes the returns that nontraded REITs have provided to shareholders with full liquidity. Full-cycle events occur in the nontraded REIT industry when a REIT completes a listing of its common stock on a public exchange, is acquired by or merged with another entity, or liquidates its investment portfolio. In order to estimate the total returns to shareholders during the life of a nontraded REIT, the liquidity event must provide shareholders the opportunity to completely liquidate their common stock holdings in arms-length transactions for the first time.
The Study compares the returns to shareholders in nontraded REITs to returns to shareholders in both traded REITs and institutional portfolios over matched holding periods and adjusting for asset type, regional diversification, leverage and costs of debt. The Study also provides comparisons to returns over matched holding periods for unweighted indices for traded REITs, institutional portfolios, common stocks and intermediate-term bonds, as well as returns for early redemptions, tender offers and nontraded REIT returns adjusted for sales loads.
View a sample of the Fourth Edition Nontraded REIT Full- Cycle Performance Study (published January 26, 2016).
Purchase your Nontraded REIT Full-Cycle Performance Study today!
Financial advisors contact Dawn McDaniel at Dawn.McDaniel@BlueVaultPartners.com or 678-456-4787.
Product sponsors contact Stacy Chitty at Stacy.Chitty@BlueVaultPartners.com or 678-802-8717.
Contact Betsy Ricks at Betsy.Ricks@BlueVaultPartners.com or 678-456-4640 if you are a:
Broker Dealer
Real estate investment company
Investment bank
Retail investor
Any entity other than a sponsor or financial advisor with a retail book of business
For information on advertising, reprint licensing or custom research, please email Stacy.Chitty@BlueVaultPartners.com or dial 678‑456‑4290.