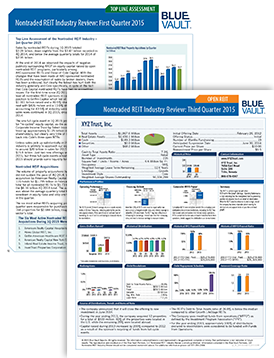 The Nontraded REIT Industry Review is a quarterly publication available by subscription only. The 90+ page report consolidates data from public sources into a user-friendly format. Every nontraded REIT, open and closed, is included in Blue Vault's quarterly Review until there is a full and complete liquidity event. No REIT is excluded.  Each report includes:
Over 20 key performance metrics with peer comparisons for more than 70 individual nontraded REITs (open and closed NTRs)
Analysis of each specific asset class, rotating quarterly, and the REITs that primarily invest in the corresponding asset class (each asset class is analyzed approximately once per year)
Commentary on the commercial real estate market in general
Commentary on real estate trends and analysis for the nontraded REIT industry as a whole
Overview of liquidity events occurring during the corresponding quarter
Numerous pages of informative industry data
Click here to view a sample individual REIT page
Nontraded REIT NAV Study— 
NEW!
This study of the pricing and net asset values of nontraded REIT programs is the first compilation of such data for all effective programs by Blue Vault and reports every offering price for most common share classes, each subsequent offering price change, each announcement of net asset values (NAVs) by share class and the "as of" date for those announcements.
In addition, we illustrate the timing of the NAV announcements measured in days after the REIT offerings break escrow. By illustrating the timing of the NAV revisions on a common time scale, our subscribers can compare the trends in NAVs over the life cycles of the different programs. There are many factors, including market-wide trends in valuations within the commercial real estate sector and program-specific issues, that affect portfolio values and the estimates of net asset values per share.
This study also compares the net asset values per share to the pricing of distribution reinvestment program (DRIP) shares which can be purchased by existing shareholders with the quarterly distributions they would otherwise receive in cash. These programs typically offer shares at 95% of the offering price during the offering period, but once net asset values are estimated or offering prices are revised, the boards of directors set new DRIP prices, usually reflecting the increase or decrease of the NAVs relative to the original offering prices, or as a percentage of the revised offering prices.
Nontraded REIT Fee Study
The first Blue Vault Nontraded REIT Fees Study provides in-depth analysis of all fees associated with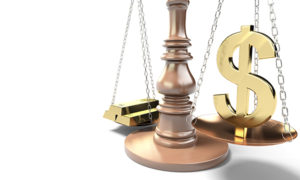 nontraded REIT investments currently offered, including definitions of the fees, how the fees impact shareholder returns, and a complete data set with each of the REIT's share class fees, as well as ranges, averages, and medians for the industry.
This study is the first of its kind to be a comprehensive view of the fee structures of nontraded REIT offerings, and the first to analyze the impacts of those fees on eventual shareholder returns. As the industry evolves with new share classes and class-specific expense allocations, such as the shareholder servicing fees assessed to Class T shares, it is more important than ever to understand how fees are calculated, assessed, and will impact shareholders. The study provides both a glossary of terms as well as extensive tables and appendices with specific examples from the prospectuses of nontraded REITs. It also examines historical trends from closed offerings to identify how current offerings compare to those of the past.
The Nontraded REIT Fee Study and NAV Study are available now, at no additional charge to new and existing financial advisors and Broker Dealer Partners subscribing to the NTR Review.
If you are a financial advisor and are not currently subscribing to the NTR Review, please contact Dawn McDaniel with Blue Vault by email or phone at 678-456-4787 for more information on pricing.
If you are a product sponsor, please contact Brooke Heffington with Blue Vault by email or phone at 678-456-4290 for more information on pricing.
Broker Dealers and other firms, including real estate companies and investment banks, should contact Betsy Ricks by email or phone at 678-456-4640.
In addition to Blue Vault's quarterly Review, subscribers also receive access to:
Blue Vault Partners does not offer investment advice and does not make, buy, or sell recommendations for any of the nontraded REITs monitored.