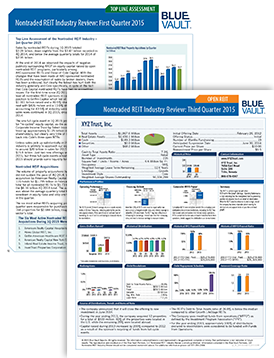 The Nontraded REIT Industry Review is a quarterly publication available by subscription only. The 90+ page report consolidates data from public sources into a user-friendly format. Every nontraded REIT, open and closed, is included in Blue Vault's quarterly Review until there is a full and complete liquidity event. No REIT is excluded.  Each report includes:
Over 20 key performance metrics with peer comparisons for more than 70 individual nontraded REITs (open and closed NTRs)
Analysis of each specific asset class, rotating quarterly, and the REITs that primarily invest in the corresponding asset class (each asset class is analyzed approximately once per year)
Commentary on the commercial real estate market in general
Commentary on real estate trends and analysis for the nontraded REIT industry as a whole
Overview of liquidity events occurring during the corresponding quarter
Numerous pages of informative industry data
Learn moreabout the following Nontraded REIT studies that are available with your paid nontraded REIT subscription. 
All Nontraded REIT Studies are available at no additional charge to new and existing financial advisors and Broker Dealer Partners subscribing to the NTR Review.
Are you a financial advisor with a retail book of business or investor? If yes, please visit the Blue Vault Store. Questions? Please email

Dawn.McDaniel@BlueVaultPartners.com

or dial 678-456-4787.
Broker Dealers, email 

Betsy.Ricks@BlueVaultPartners.com

or dial 678-456-4640 .
Product sponsors, email 

Brooke.Heffington@BlueVaultPartners.com

or dial 678-456-4290.
Are you a real estate company or entity, other than a financial advisor with a retail book of business or an investor? If yes, please phone Blue Vault toll free at 1-877-256-2304 for subscription information.
Are you a member of the Financial Services Institute (FSI)? If yes, congratulations! Please inquire about your nontraded REIT subscription discount for financial advisors and Broker Dealers only!
For information on advertising, reprint licensing or custom research, please email 

Brooke.Heffington@BlueVaultPartners.com

or dial 678‑456‑4290.
In addition to Blue Vault's nontraded REIT Industry Review, subscribers also receive access to:
The Vault… Blue Vault's online library of historical data, providing subscribers with over 1,500 individual research pages and over 18 quarterly Reviews, dating back to the 4th quarter of 2009.
Blue Vault's NewsWire… delivers, three times per week via email, the most relevant alternative investment industry news, including nontraded REIT, BDC, closed-end fund, and private offerings, right to your mailbox. Sign up for this free service now by clicking here.
Insights…from Inside the Vault… an educational document focusing on different topics unique to nontraded REITs to help Blue Vault subscribers better understand all relevant REIT characteristics and features.
Blue Vault's Brief–Nontraded REIT Year In Review… published annually, the Brief provides subscribers with a "year in review" of the most significant nontraded REIT industry highlights that occurring during the previous year. The Brief also includes Blue Vault's opinions and best estimates of what the new year will hold for nontraded REITs.
Blue Vault's Full-Cycle Studies, completed collaboratively with the Universities of Texas and Georgia. Blue Vault completed its first of several studies on nontraded REIT total returns in 2012. Approximately every 12 months an additional edition to the studies is completed.
Blue Vault's Nontraded REIT Fee Study provides in-depth analysis of all fees associated with nontraded REIT investments currently offered, including definitions of the fees, how the fees impact shareholder returns, and a complete data set with each of the REIT's share class fees, as well as ranges, averages, and medians for the industry.
Blue Vault's Nontraded REIT NAV Study of the pricing and net asset values of nontraded REIT programs is the first compilation of such data for all effective programs by Blue Vault and reports every offering price for most common share classes, each subsequent offering price change, each announcement of net asset values (NAVs) by share class and the "as of" date for those announcements.
Blue Vault Partners does not offer investment advice and does not make buy or sell recommendations for any of the nontraded REITs monitored.