Alternative Investments: Why Now is the Time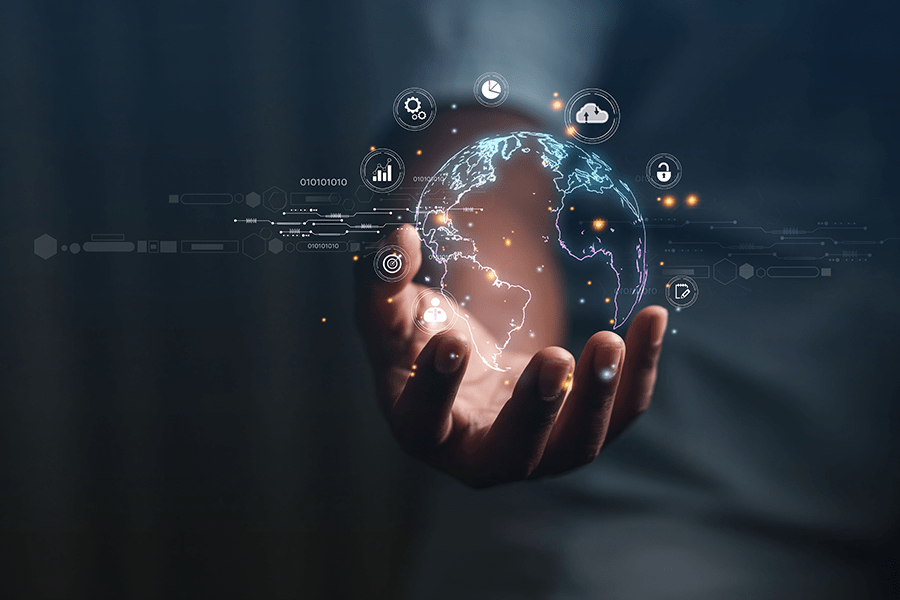 Alternative Investments: Why Now is the Time
November 9, 2022 | Marketing Intent
As market volatility persists, alternative investments have been the subject of increased news coverage and surveys, with headlines ranging from surging alts demand by financial advisors to young and wealthy investors flocking to alternatives. For good reason. Alternative investments have historically provided portfolio diversification, been uncorrelated with the stock and bond markets and have helped hedge against inflation.
Financial advisors not yet using alternatives or those who haven't explored alts recently are missing out – as are their clients. Alts can help increase portfolio returns and reduce risk. They can also help financial advisors differentiate their practices and offer greater value to clients.
Demand for Alternatives
While much of the recent focus on alternatives centers around the perspective of financial advisors, the more compelling information discusses the opinions of and demand for alternatives by investors themselves.
According to a recent Bank of America Private Bank study, younger, wealthy investors are looking beyond the stock market for higher returns.1
• Younger generations engaging in new investment strategies: 75% of investors between the ages of 21 and 42, compared to 32% of investors over age 43, do not think it's possible to achieve above-average returns solely with traditional stocks and bonds.1
• 80% of young investors are looking to alternative investments, such as private equity, commodities, real estate, and other tangible assets. They allocate three times more of their investment portfolios to alternative strategies (16%) and half as much to stocks (25%) than older investors (5% and 55%, respectively).1
Additionally, according to a recent survey conducted by Cerulli Associates – a research firm that helps power financial services firms with in-depth analysis and strategic recommendations – and Blue Vault – the leading aggregator of alternative investment data and analysis – for advisors offering alts, 19% of the time, it's due to client requests.

As an industry, this is what we've been waiting for – investors not only being open to exploring new investment strategies, but also recognizing the benefits of alternative investments and asking for them to be added to their portfolios.
Increasing Supply of Alts Investment Programs
According to Preqin – a privately held London-based investment data company that provides financial data and insight on the alternative assets market – the global market for alternative investments will be $18.3 trillion in 2027, up from $9.3 trillion and almost twice its size at the start of 2022.2 From 2015-2021, the alternative investment market grew 14.9% annually, and during the coming five years, Preqin expects it will grow 11.9% annually.2
The investment programs making up the alternative investment industry are diverse in both investment structure and focus. A wide range of investors can access alternative investments through structures with low investment minimums and less stringent eligibility requirements, like non-traded REITs, as well as through private placement fund structures that require a more significant investment and investors to be accredited.
The investment focus of alternatives is wide ranging, including the four "food groups" of commercial real estate (i.e., office, industrial, retail, multifamily) and beyond…far beyond to agriculture, hotels, solar farms, land entitlements, single-family rentals, private equity, private debt, hedge funds, commodities, collectibles and structured products.
Financial Advisors Key to Bridging Gap
The key to bridging the gap between the demand/need for alternative investments by investors and the many available alternative investment programs is financial advisors. According to the Cerulli Associates and Blue Vault survey, polled financial advisors reported their alternative investment allocations to be significantly higher in 2022 at an average of 14.5% (vs. 10.5% in 2021) with projections of an increase to 17.5% in two years.3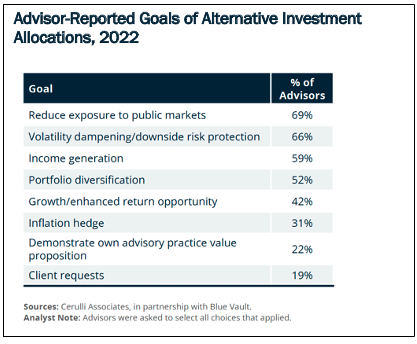 Financial advisor interest in increasing alts allocations is great news for investors – and the industry overall. But the bigger lever to expand investor access to alts is for more financial advisors to increase their knowledge level of alts so they are comfortable offering them to clients. Today, most agree that approximately 15%-20% of financial advisors offer illiquid alternatives to their clients, leaving a large opportunity for additional advisors and their clients to benefit from investing in alts.
In the Cerulli Associates and Blue Vault survey, advisors noted challenges in offering alternative investments to their clients, including high management fees/loads, complexity, and/or that their firms don't support alternative investments.
Asset managers in the alternative investments industry, along with firms serving it – like tech providers – continue to address advisor challenges. Fees on many products have come down significantly in recent years, a number of products offer greater liquidity, and transparency has improved. And tech firms are constantly working to streamline and automate the paperwork process.
Now Is the Time to Look at Alts
Any advisor who hasn't looked at alts lately, should revisit the wide range of programs available today. An easy way to do that is through Blue Vault.
Blue Vault is the leading aggregator of alternative investment data and analysis. They specialize in industry insights, trends, tools, and solutions. Think of them as the high-octane fuel behind connecting advisors with alternative asset managers and investment solutions. They keep wealth advisors informed and equip them to select the best alts strategies for their clients and their practice.
The Blue Vault annual Summit is being held March 6-8, 2023 in Atlanta. Plan now to attend to learn about alts for the first time or up your alts game if you're already using them. Learn more about the Summit here.
About Marketing Intent
Marketing Intent is a sales-focused marketing group specializing in alternative investments. We live by the mantra "nothing happens until something is sold." Our marketing serves as the backbone of sales. Our work makes your prospects and clients take notice, ask questions and listen to your story. Learn how we help asset managers create marketing that helps raise capital. Contact us.
1 https://newsroom.bankofamerica.com/content/newsroom/press-releases/2022/10/bank-of-america-private-bank-study-finds-younger-investors-turni.html
2 https://www.pionline.com/alternatives/global-alternatives-market-projected-double-size-2027-preqin
3 https://image.marketing.cerulli.com/lib/fe3411737164047c7d1072/m/1/81f366b6-66d8-4234-b21f-461b7f75f999.pdf