After Macy's deal, affiliated investors sell downtown office buildings for $33.4M
Dec 8, 2016, 6:00am PST | Jon Bell | Portland Business Journal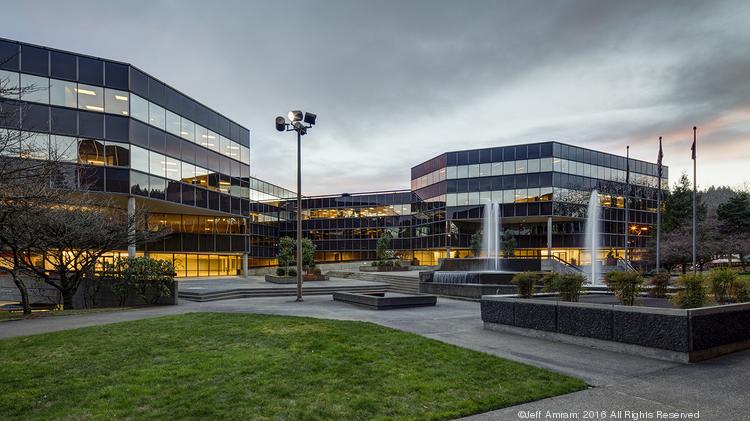 An affiliate of the company that just a few weeks ago bought five floors of the iconic Meier & Frank Building in Portland has now sold one of its other downtown assets for $33.4 million.
KBS Real Estate Investment Trust, an affiliate of KBS Realty Advisors, has sold the CDK Plaza to Bixby Land Company for $33.4 million. Based in Newport Beach, California, Bixby is planning to make significant upgrades to the 185,729-square-foot plaza, which is its first foray into the Portland market. The four-story, two-building office plaza is located at 2525 S.W. First Ave.
Those upgrades will run about $7.5 million and include a re-design of the plaza and courtyard between the two buildings, new lobbies and landscaping.
"The improvements we have planned will make this office campus much more appealing to companies looking for a progressive work environment," said Mike Severson, Bixby's senior vice president of investments, in a release. "We view this as an excellent opportunity to apply our experience gained through the repositioning of some 30 office buildings throughout California."
Read Full Article Located Here
Go Back
Loreen M. Gilbert, CIMA, AIF, CRC, CLTC – President, WealthWise Financial Services
Blue Vault
Our firm has been using Blue Vault from the first year it was available.
We have found it to be a valuable tool to verify what wholesalers tell us and to dig deep into how the reported investments are really performing.
We appreciate that Blue Vault has expanded its services from initially covering REIT's to now also including BDC's.
Our clients also appreciate that we conduct this additional due diligence on their behalf.