Atlantic Pacific Companies and GTIS Partners Announce Joint Venture for New Development in Miami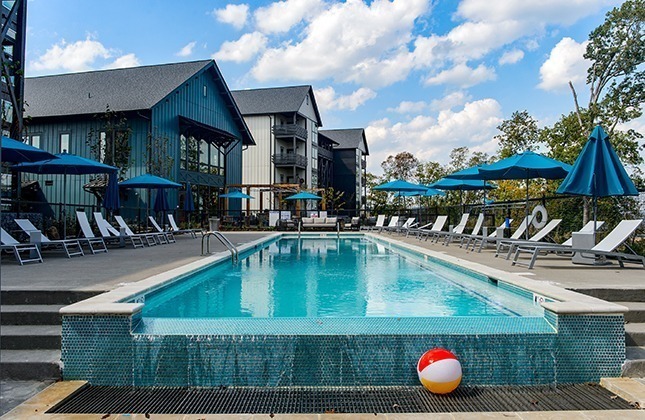 Atlantic Pacific Companies and GTIS Partners Announce Joint Venture for New Development in Miami
August 15, 2023 | GTIS Partners
Atlantic Pacific Companies ("A|P"), a fourth-generation real estate company headquartered in Miami and focused on multi-family development and property management, and GTIS Partners ("GTIS"), a global real estate investment firm managing $4.3 billion in gross assets with a U.S. focus on residential and industrial/logistics investments, announced today a joint venture to invest in the ongoing development of Atlantic Station. Atlantic Station is a 36-story, 616-unit apartment building with approximately 25,000 square feet of retail space and a 624-space, 7-level parking garage located on a 2.1-acre site at NW 8th Street and NW 2nd Avenue in the high-growth Downtown Miami submarket.
The project will include high-end amenities and unit finishes, an interior-facing courtyard, and Miami city views on the higher floors. Amenities will include an elevated recreation deck with two swimming pools, a high-end gym, picnic areas, a dog park and multiple work-from-home areas. 360 of the apartment units will be income-restricted, providing affordable workforce housing.
Adjacent to Miami Worldcenter, Brickell and the new Central Brightline and Metrorail stations, the project is expected to attract attention from commuters given its proximity to the available rail-transit and nearby highway, I-95. The site was previously a parking lot and is owned by Miami Dade County Department of Transportation and Public Works.
"We are excited to partner with A|P and specifically both Howard Cohen and Randy Weisburd on this project, Miami natives with a long and successful history of acquiring and developing multifamily properties in South Florida," said Robert Vahradian, Partner and Head of U.S. Investments of GTIS. "This new venture provides us the opportunity to invest in a significant Class A multifamily development in a location of tremendous growth in the Downtown Miami market."
Amit Rind, Managing Director at GTIS, added: "We're thrilled to partner with A|P to advance the growth of this dynamic submarket, while at the same time providing quality affordable housing that is so important to growing communities, and a core element of our Opportunity Zone Funds' ESG initiatives."
"Completing our capital raise with a partner of GTIS's stature is certainly rewarding," said Ken Naylor, President – Development at A|P. "Located in Miami's most transit-rich neighborhood, Historic Overtown, Atlantic Station is part of our ongoing commitment to creating Transit Oriented Communities in collaboration with Miami-Dade County."
Following the COVID pandemic, the Downtown Miami submarket was among the fastest growing multifamily residential markets in the country. According to U.S. Census Bureau estimates, Florida led the U.S. in population gains, a leading indicator for rental demand.
The project is fully permitted and has received all necessary entitlements under the County's jurisdiction. Vertical construction began in late June 2023, and construction is expected to be completed in April 2025.
About Atlantic Pacific Companies
Atlantic Pacific Companies (A|P) is a fourth-generation, family-owned real estate company with expertise in acquisitions, development, construction, and management of multifamily communities throughout the United States. A|P has over $4.1 billion of assets under management and employs 550 skilled professionals in Florida, Texas, California, Georgia, North Carolina, Maryland, and Washington D.C. For more information about A|P and its array of real estate services including property management, investment management, development, and construction, visit www.apcompanies.com.
About GTIS Partners
GTIS Partners is a global real estate investment firm in the Americas, headquartered in New York with offices in São Paulo, San Francisco, Los Angeles, Atlanta, Charlotte, Phoenix, Dallas and Munich. The firm was started in 2005 and is managed by President and Founder Tom Shapiro and seven other partners. The firm manages $4.3 billion in gross assets and is active across a wide range of real estate sectors including single family and multifamily housing, office, industrial/logistics and hospitality as well as opportunity zone investments. The firm invests at various points in the capital structure including credit, common equity and structured equity. In the US, GTIS has invested in over 190 assets across 40 unique markets including growth areas such as Phoenix, Dallas, Houston, Denver, Atlanta, Tampa and Charlotte. In Brazil, GTIS is among the largest real estate private equity firms with holdings including office, residential, logistics, and hospitality investments. Marquee assets developed by GTIS Partners in São Paulo include the Infinity office building and Palácio Tangará, a five-star resort style hotel. For more information, please visit www.gtispartners.com. 
Media Contacts
Mary Beth Grover / Keely Gispan

ASC Advisors

(203) 992-1230

mbgrover@ascadvisors.com / kgispan@ascadvisors.com
Source
GTIS Partners