Continuously Offered Nontraded REITs Have Excellent Returns in August
September 22, 2021 | James Sprow | Blue Vault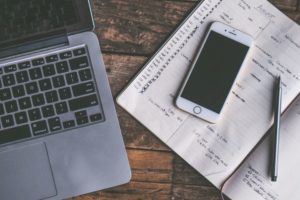 Ten continuously offered nontraded REIT products reported total returns for August, with a median return of 2.35%, which represents the increase in monthly NAVs and monthly distributions. The highest August return was reported by Starwood Real Estate Income Trust at 4.48%. Jones Lang LaSalle Income Property Trust was next with a total return in August of 3.06%. For year-to-date returns through August 31, Blackstone REIT led all ten NTRs with a YTD return of 18.32%, followed by Nuveen Global Cities Trust at 15.05% and Starwood REIT at 13.77%.
For August, the total return on the S&P 500 was 2.90%. The 12-month total return on the S&P 500 through August 31 was 21.58%. Seven nontraded REITs reported 12-month trailing total returns with a median of 11.40%. When it comes to volatility, the monthly total returns on the S&P 500 index was 3.90% compared to the standard deviation of the median returns on the continuously offered nontraded REITs was just 0.50%.
Chart I illustrates the August 2021 total returns for the 10 continuously offered nontraded REITs.
Chart I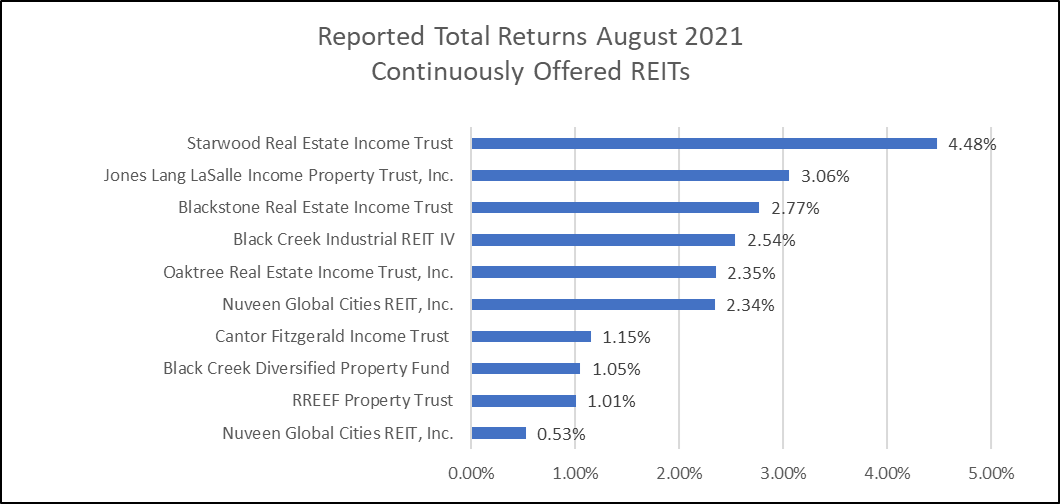 Chart II clearly illustrates the difference in volatility for the monthly total returns of the nontraded REITs and the S&P 500. The S&P 500 had negative total returns in five of the 20 months from January 2020 through August 2021. The continuously offered nontraded REITs reported a median total return that turned negative in only one of the 20 months, that of March 2020 when the COVID pandemic caused the S&P 500 to record a total negative return of 12.35%.
Chart II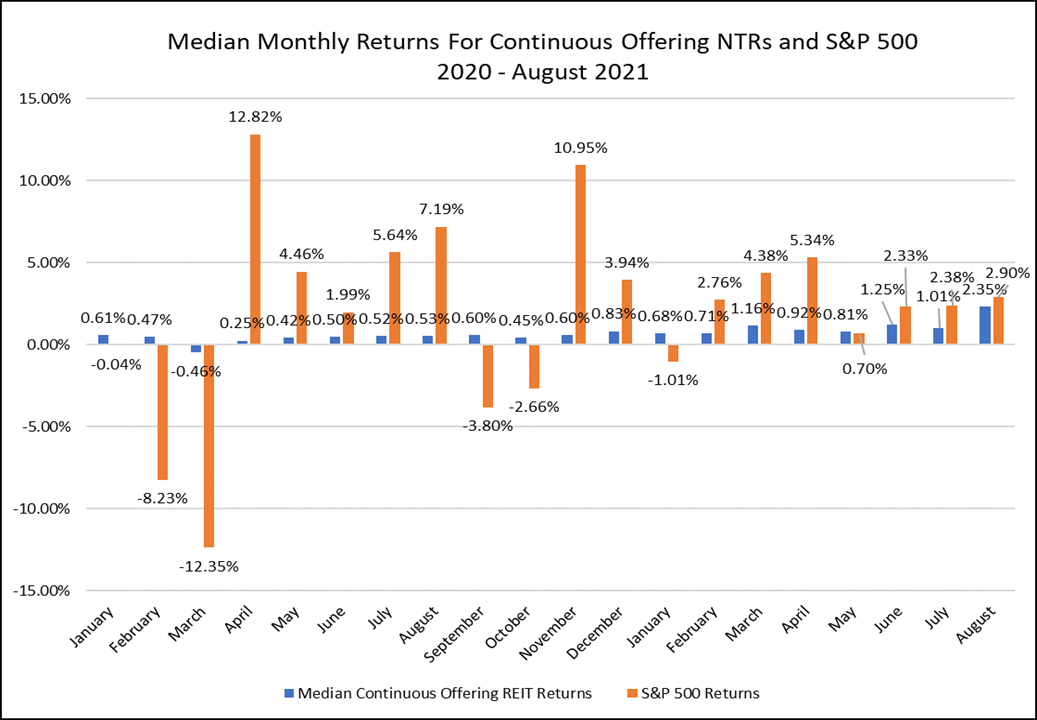 * Returns are calculated for Class I common shares for all REITs except Cantor Fitzgerald Income Trust's Class IX and Jones Lang LaSalle Income Property Trust's Class A shares.
Sources:  Individual NTR websites and Yahoo!Finance.com
Go Back
Second Annual Blue Vault Broker Dealer Educational Summit 2016
2016 Broker Dealer Educational Summit 2016
Best Due Diligence meeting in the industry. No sales pitches, senior level decision makers, meaningful discussions and the Broker Dealer networking sessions were especially useful. Thanks to Blue Vault for raising the bar!