Coronavirus Hits Hotel REIT Stocks Hard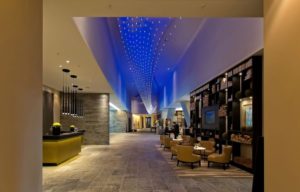 February 28, 2020 | James Sprow | Blue Vault
In a February 24 article by Jake Mooney and Chris Hudgins at S&P Global Market Intelligence, the authors reported on the impact on hotel and travel-industry stocks amid growing concerns about the spread of the coronavirus outside China.
Following up on that article, Blue Vault can report on the continuing impacts on share prices since February 24 and as of noon on February 27. 
With the S&P 500 average down a hefty 9.7% from their Monday, February 24 opening, hospitality REITs were all down much more, with just two exceptions.  Among the prominently listed stocks of hospitality companies, four of our sample of five major hotel chains were down more than the S&P 500 for the week.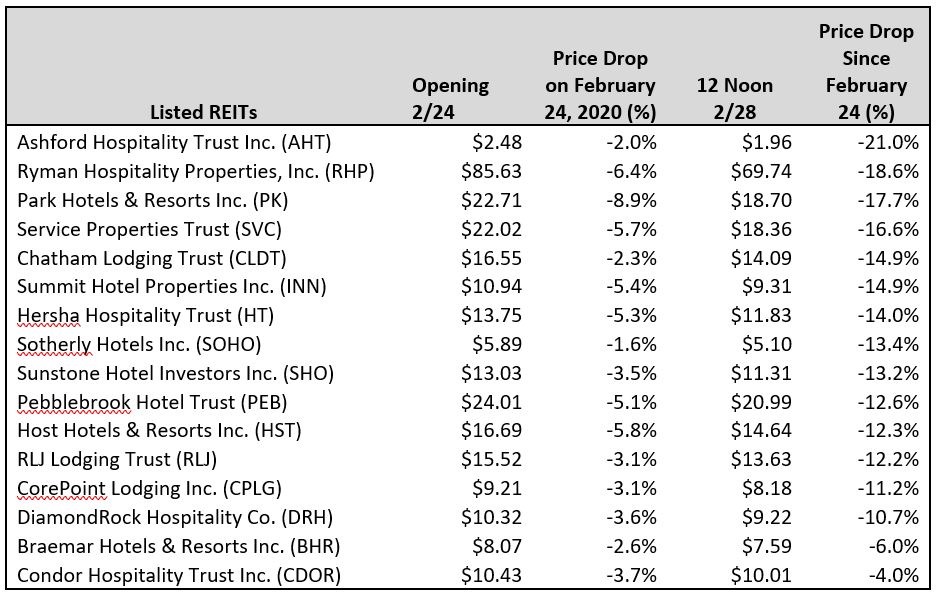 According to the S&P Global Market Intelligence article, "The decline in hotel stocks followed a period of relative optimism, especially around hotel operators. While hotel industry executives generally are bracing for a difficult year, Hilton Worldwide Holdings Inc. and Hyatt Hotels Corp. both posted well-received fourth-quarter 2019 earnings reports, and Hilton's share price rose in the hours after the company detailed its expected coronavirus exposure."
Marriott International Inc., the world's leading hotel brand company, announced on February 27 that the brand had closed dozens of China hotels amid growing concerns over the global spread of the COVID-19 coronavirus.  BizjJournal reported, "The hospitality giant began to see the coronavirus affect its business in mid-January, as declines in hotel occupancy rates had spread from Wuhan, China, where the virus originated, to other markets in the Asia Pacific region, Marriott President and CEO Arne Sorenson told investors during a Thursday morning earnings call. In February, Marriott hotels in Greater China saw their revenue per available room, or RevPAR, a common industry metric, plunge almost 90% compared with the same period last year."
The following is from the S&P Global Market Intelligence article:
"The fact that this thing is spreading outside of China at this point, that's big news," Evercore ISI hotel analyst Rich Hightower said in an interview. "Up until now, you're getting most of the information from a government that obviously is not totally forthcoming."
While hotel real estate investment trusts typically own U.S. properties and are not exposed directly to many Chinese travelers, many in coastal markets draw business from airline crews and other guests connected to the wider travel industry, and could be affected if travel slows, Hightower added.
On a Feb. 20 earnings conference call, Host Hotels & Resorts Inc. President and CEO Jim Risoleo said Facebook Inc. had canceled a meeting in San Francisco in the first week of March, possibly over coronavirus concerns. Risoleo said the virus could put further downward pressure on the company's business transient revenues.
Robert W. Baird analyst Michael Bellisario said in an interview that hotel companies generally have fared better than other travel-industry players in recent weeks, but added that some optimism may be fading.
"Every day this persists, the recovery period is probably going to be one or two days longer," Bellisario said. "People were assuming this would get better sooner rather than later, and the news over the weekend causes people to change their view on that."
Sources:  S&P Global Market Intelligence, BizJournal, Yahoo! Finance, Blue Vault
Go Back
Second Annual Blue Vault Broker Dealer Educational Summit 2016
Broker Dealer Educational Summit 2016
The time (at Blue Vault's 2nd Annual Broker Dealer Educational Summit) proved extremely informative.