ExchangeRight Completes 10 Full-Cycle Events in 2022 with Returns Ranging from 6.67% to 11.25%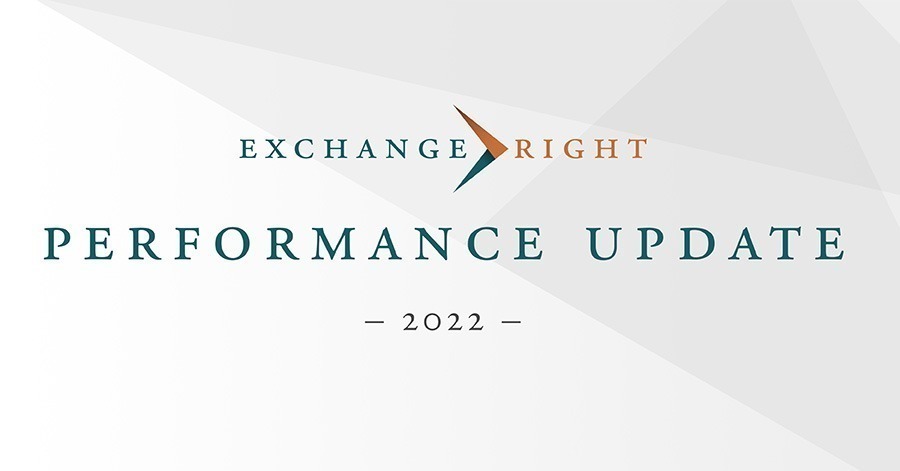 ExchangeRight Completes 10 Full-Cycle Events in 2022 with Returns Ranging from 6.67% to 11.25%
January 25, 2023 | ExchangeRight
ExchangeRight, one of the nation's leading providers of diversified real estate DST and REIT investments, announced it successfully met or exceeded investor cash flow targets across all offerings in 2022 while completing 10 successful full-cycle events that provided more than 700 investors with profitable, strategic exits. Despite an economy that included high inflation, significant interest rate increases, and a period of recession, each full-cyc le offering outperformed projections, generating average annualized returns ranging from 6.67% to 11.25%.
ExchangeRight's 31 full-cycle offerings have produced an 8.74% average annual return inception to date, with full-cycle events from its net lease platform achieving average total investor returns from 143.73% to 156.98% and average annual ROI exceeding projections ranging from 6.18% to 44.50%.
ExchangeRight produced 11 new DST portfolios designed for recession resilience in 2022, bringing its assets under management to $5.3 billion, representing an 18% increase of year-over-year growth. Throughout last year's economic volatility the company maintained 100% rent collection and provided stable income to investors, paying more than 7,300 investors at an annualized pace of over $140 million in total distributions. All 84 of its current and past offerings have served investors with uninterrupted cash flows that have met or exceeded distribution projections every month.
"We are proud to have preserved investor capital and executed a record number of successful exits, even through last year's economic headwinds," said Warren Thomas, a managing partner at ExchangeRight. "By staying true to the same conservative strategy that we started with, focused on net-leased assets backed primarily by investment-grade tenants operating in necessity-based industries, we protected investors' wealth and ensured their passive income was consistent. In uncertain times, we know how important it is to our investors to have income they can depend on, and we sincerely appreciate the trust they've placed in us to do just that."
ExchangeRight acquired 164 net-leased properties in 2022, with occupants including Walmart Neighborhood Market, Publix, ShopRite, CVS Pharmacy, and Walgreens. The company intends to carefully expand its value-add platform that was launched last year, which focuses on inline and out-parcel properties shadow-anchored by high performing grocery tenants.
Joshua Ungerecht, a managing partner at ExchangeRight, reiterated that macroeconomic research and uncompromising acquisition standards have been the key to ExchangeRight's continued success.
"Everything we do starts with our macroeconomic analysis of the market, which is especially important for investors as we go through this challenging economic period," Ungerecht said. "What we've found is that investment-grade tenants operating successfully in necessity-based businesses are best poised to survive economic turmoil while satisfying their lease requirements. We saw it during the crisis of 2008, we saw it during the COVID-19 pandemic, and we're seeing it now during this inflationary period. That's why we focus on them, so we are able to serve our investors with consistent, dependable income that has historically been resilient to economic downturns."
About ExchangeRight
ExchangeRight pursues its passion to empower people to be secure, free, and generous by providing REIT, fund, and 1031 DST portfolios that target secure capital, stable income, and strategic exits. The company strategically syndicates net-leased portfolios of assets backed primarily by investment-grade corporations that successfully operate in the necessity-based retail and healthcare industries, as well as diversified value-add portfolios of inline and outparcel retail properties shadow-anchored by strong-performing grocery tenants. Please visit www.exchangeright.com for more information.
Media Contact

Lindsey Thompson
Senior Media Relations Officer
Email: lthompson@exchangeright.com
Phone: (626) 773-3448