Fitch Analyst Says REITs Looking to Reduce Cost of Financing
July 17, 2017 | by REIT.com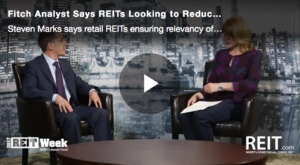 Steven Marks, managing director at Fitch Ratings, joined REIT.com for a video interview at REITWeek2017: NAREIT's Investor Forum at the New York Hilton Midtown.
Marks commented on a recent report by Fitch into REITs' bank borrowing exposure. Fitch looked at the sum of withdrawals on revolving lines of credit and outstanding term loans, comparing them with the total amount of debt outstanding. At the end of 2009, the level was about 10 percent. By the first quarter of 2017, it had risen to 18 percent, he noted.
Part of the reason for the increase is that banks have been pushing term loan products to REITs because it helps them from a capital charge perspective, according to Marks. REITs like term loans because they are looking for ways to reduce the cost of financing as it becomes more challenging to grow organically, he said.
Go Back
John E. Moriarty, ChFC
December 2015
I have been in the financial services industry for 20 years and our firm provides an education platform that gets clients to "think differently" about their financial picture.  For many years we have communicated to clients the need to diversify their portfolios using alternative asset classes and more specifically, private non-traded investments.  Due diligence on these types of financial vehicles is essential and when I learned about Blue Vault in 2010, our firm immediately began using their material as a tool to build confidence in the minds of our advisors on which alternatives to recommend to clients.  I am impressed with the way Blue Vault continues to add value to their subscribers and I view their publication as a tremendous resource in today's complex world.