Hines Global REIT's Sale of The Rim for $220 Million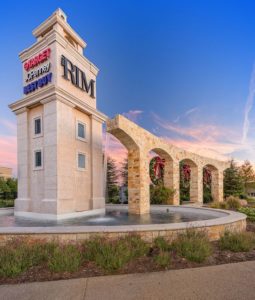 January 28, 2021 | James Sprow | Blue Vault
A North Carolina real estate firm has entered an agreement to purchase Texas' largest outdoor shopping center for $219.7 million, the company confirmed Tuesday. The San Antonio Business Journal announced the sale for $219.7 million, or about $210.84/sf for The Rim, a 1.042 million-square-foot outdoor shopping center in San Antonio.
The Rim was purchased by Hines Global REIT, Inc. in February 2014 for approximately $176 million and was listed as containing 656,371 square feet that was 99% occupied as of December 31, 2014.  The going-in CAP rate was 5.9%. 
In a January 15, 2021 filing with the SEC, Hines Global REIT San Antonio Retail I LP, a subsidiary of HGR Liquidating Trust, announced that it had entered into an agreement of sale and purchase with Big V Acquisitions LLC, to sell The Rim. The purchaser is not affiliated with HGR Liquidating Trust or its affiliates. The purchaser is linked to Big V Property Group, a Charlotte-based firm that owns and operates shopping centers.
The contract sales price for The Rim was expected to be approximately $219.7 million, exclusive of transaction costs, rent free adjustments (in respect of units which are currently under rent free periods) and closing prorations. HGR Liquidating Trust expects the closing of this sale to occur in March 2021, subject to a number of customary closing conditions.
In August 2020, HGR Liquidating Trust sold two properties for an estimated total of $640 million and paid a special distribution of $2.45 per share in September 2020 as a result of the sales. Special distributions related to the previous liquidations of the REIT's properties totaled $5.00 per share during 2018, 2019 and 2020 prior to the September 2020 distribution. 
Sources:  SEC, San Antonio Business Journal, Blue Vault
Go Back
Loreen M. Gilbert, CIMA, AIF, CRC, CLTC – President, WealthWise Financial Services
Blue Vault
Our firm has been using Blue Vault from the first year it was available.
We have found it to be a valuable tool to verify what wholesalers tell us and to dig deep into how the reported investments are really performing.
We appreciate that Blue Vault has expanded its services from initially covering REIT's to now also including BDC's.
Our clients also appreciate that we conduct this additional due diligence on their behalf.