KBS Legacy Partners Apartment REIT Sells 301-Unit Apartment Complex in Charlotte, N.C.
February 7, 2017 | James Sprow | Blue Vault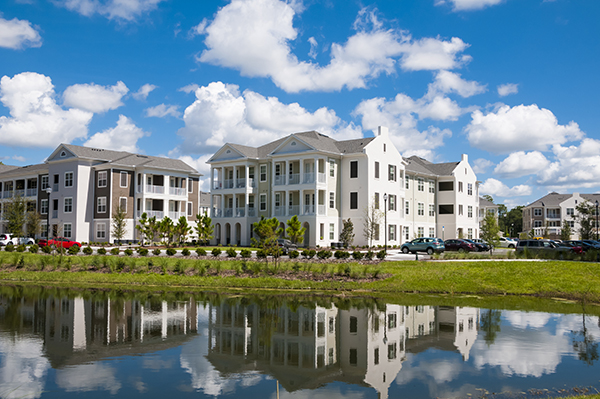 KBS Legacy Partners Apartment REIT Inc., through its subsidiaries, agreed to sell Wesley Village in Charlotte, N.C., and the adjacent 3.8-acre land parcel to Bluerock Real Estate LLC, for $57.7 million. The deal was reinstated on January 30, after it had been initially terminated by the buyer. Wesley Village was purchased on November 6, 2012, for $46.4 million. The transaction is subject to a due diligence period through February 8.
The company first announced in July 2016, it would market the property, along with 10 other U.S. assets, for sale. At that time, the REIT engaged Holliday Fenoglio Fowler LP to market for sale an 11-property, 3,039-unit multifamily portfolio spread across several U.S. markets.  The properties in the portfolio included Watertower Apartments in Eden Prairie, Minn.; Poplar Creek in Schaumburg, Ill.; Legacy at Martin's Point in Lombard, Ill.; Lofts at the Highlands in St. Louis; Legacy at Valley Ranch in Irving, Texas; Crystal Park at Waterford in Frederick, Md.; The Residence at Waterstone in Pikesville, Md.; Legacy Grand at Concord in Concord, N.C.; Wesley Village in Charlotte, N.C.; Legacy Crescent Park in Greer, S.C.; and Millennium Apartment Homes in Greenville, S.C. The portfolio was offered for sale in its entirety or individually.
On January 23, 2017, the Company's board of directors authorized distributions based on daily record dates for the period from February 1, 2017 through February 28, 2017, which the Company expects to pay in March 2017.  Investors may choose to receive cash distributions or purchase additional shares through the Company's dividend reinvestment plan.
Distributions for this period will be calculated based on stockholders of record each day during this period at a rate of $0.00178082 per share per day and equal a daily amount that, if paid each day for a 365-day period, would equal a 6.95% annualized rate based on the Company's December 9, 2016, estimated value per share of $9.35.


Click here to learn more about KBS Capital Markets Group 
Go Back
I have been using Blue Vault Partners for the past five years.  I have found them to be a valuable, unbiased resource when it comes to evaluating and comparing non-traded REITs.  The reports help me analyze which sponsors are doing a responsible job of managing their offerings.  This allows me to limit my REIT recommendations to only the most competitive products, and then track those REITs throughout their life cycle.