Multifamily's Lowest-Risk Markets, And Its Highest
RICHARDSON, TX—The apartment market least likely to see a rent recession is not located in any of the Smile States, according to RealPage's MPF Research.
March 20, 2017 | by PAUL BUBNY | GlobeSt.com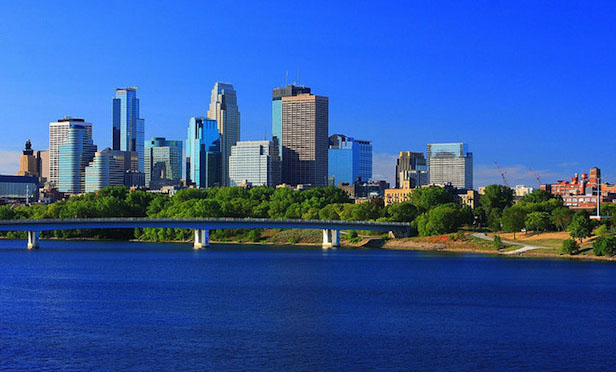 RICHARDSON, TX—For the nation's least risky apartment market in terms of a rent recession, look outside the Smile States. So says RealPage's MPF Research, which recently scored both the metro areas least likely and those most likely to experience a period of two or more consecutive annual rent decreases, based on a composite of variables ranging from rent gains to household income growth.
When it comes to avoiding a rent recession, the most solid multifamily market in terms of its recent metrics is Minneapolis, says MPF. The risk of rent recession in Minnesota's largest city has been on a downward trend since at least the fourth quarter of 2014, although it spiked in Q4 2015.
In Q4 of last year, Minneapolis rent growth landed in the top decile historically, "seeing its strongest expansion since 2011," according to a blog posting by market analyst Kyle Grace. "Absorption and occupancy growth landed in the 70th percentile or better and net inventory growth remains relatively subdued compared to what the market has seen in the past."
Go Back
John E. Moriarty, ChFC
December 2015
I have been in the financial services industry for 20 years and our firm provides an education platform that gets clients to "think differently" about their financial picture.  For many years we have communicated to clients the need to diversify their portfolios using alternative asset classes and more specifically, private non-traded investments.  Due diligence on these types of financial vehicles is essential and when I learned about Blue Vault in 2010, our firm immediately began using their material as a tool to build confidence in the minds of our advisors on which alternatives to recommend to clients.  I am impressed with the way Blue Vault continues to add value to their subscribers and I view their publication as a tremendous resource in today's complex world.