November NTR Sales Up 0.4% From October, Nontraded BDC Sales Down 23%
December 13, 2018 | James Sprow | Blue Vault
Nontraded REITs booked capital raise of $417.0 million in November, just slightly above the $415.1 million in October. Blackstone REIT saw capital raise fall in November by 16%, but other nontraded REIT offerings made up the difference, enough to give the sector the small increase over October.  With the Blackstone REIT November sales of $236.4 million, down from sales in October of $281.5 million, the 0.4% rise in capital raise month-to-month among NTRs was due to several other REIT programs picking up the pace. The total capital raise for nontraded REITs excluding Blackstone REIT in November was $180.6 million, compared to $133.6 million for the same REITs in October, an increase of 35%. After Blackstone REIT with 57% of the month's sales, the leading REIT program in capital raise in November was Black Creek Industrial REIT IV, with sales of $49.5 million, up 170% from October's $18.3 million. Griffin-American Healthcare REIT IV, Inc. was next with sales of $28.6 million, up 32% from October. Another Black Creek REIT program, Black Creek Diversified Property Fund raised $17.3 million, up 22% from its October total of $14.1 million.  The Jones Lang LaSalle Income Property Trust total was $16.2 million, down from $21.2 million in October.
Among the sponsors of nontraded REIT offerings, Blackstone was first with $236.4 million, Black Creek Group, with two open programs was next with $66.8 million raised, followed by Griffin Capital Company with two programs totaling $30.3 million. Jones Lang LaSalle was next with $16.2 million. Carter Validus raised $13.7 million, followed by CIM Group (formerly Cole Capital) with $13.5 million.
The one new nontraded REIT reporting sales in October, Procaccianti Hotel REIT Inc., increased its sales in November to $0.53 million from $0.23 million in its first monthly report.
Among those REITs with significant increases in capital raised between October and November, the largest percentage increase was achieved by Black Creek Industrial Property Trust, from $18.4 million in October to $49.5 million in November, an increase of 170%. Resource Apartment REIT III increased sales from $2.8 million in October to $7.1 million in November, a 156% increase.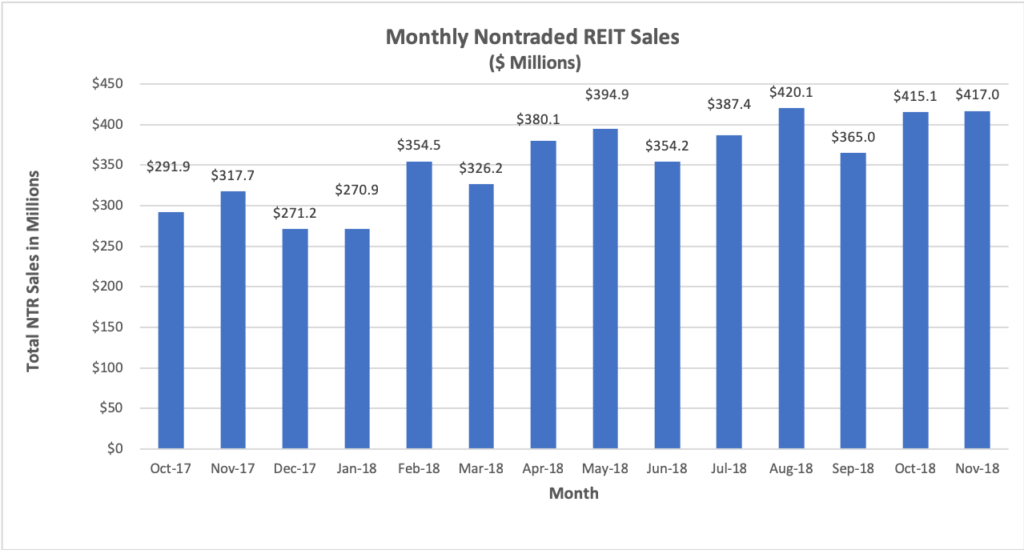 The $832.1 million capital raised in the first two months of Q4 2018 put the industry on pace for over $1.25 billion for the quarter if the trends continue, which would be the largest quarterly total since 2017.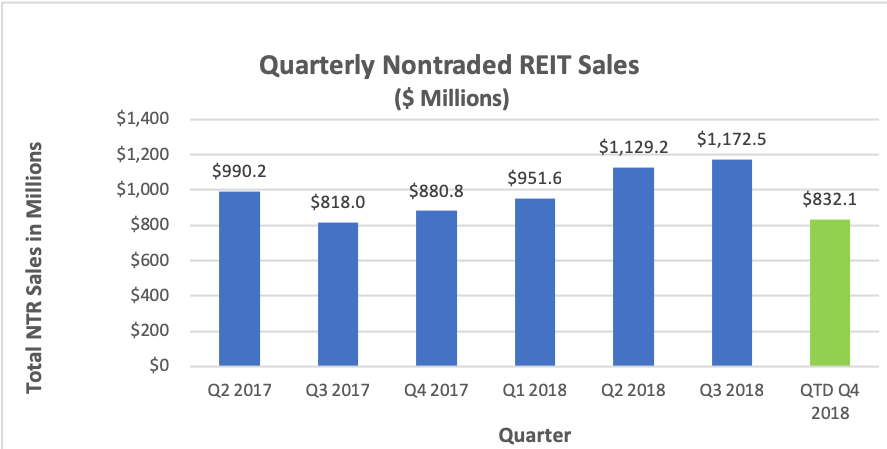 Nontraded BDC Sales Fall in November
Nontraded BDC sales decreased from $57.2 million in October to $43.8 million in November, a decrease of 23%, with only three nontraded BDC programs raising funds in November compared to six in April and seven in February. However, September sales were just $28.3 million for the same three programs. Owl Rock Capital Advisors again led nontraded BDC sponsors with sales of $39.4 million by its Owl Rock Capital Corporation II program, 69% of all nontraded BDC sales in November, and down 15% from its $46.6 million sales in October. CION Investment Corporation reported sales of $3.0 million in November, 5.3% of nontraded BDC sales for the month, and down from $8.2 million in October. MacKenzie Realty Capital was a distant third with $1.5 million in sales for a 2.6% share of all November BDC sales, down from its October sales of $2.5 million.
Go Back
Second Annual Blue Vault Broker Dealer Educational Summit 2016
Broker Dealer Educational Summit 2016
The Blue Vault Summit could not have been more perfectly timed. This gathering of the Broker Dealer and Sponsor communities provided insightful and open discussion from several vantage points. These conversations are paramount, especially in a time of significant regulatory change.