SmartStop Self Storage REIT, Inc. Acquires Self Storage Facility in Riverside, California
May 27, 2021 | SmartStop Self Storage REIT, Inc.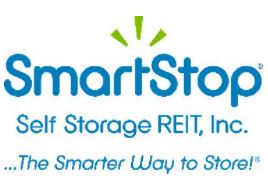 LADERA RANCH, Calif.–(BUSINESS WIRE)–SmartStop Self Storage REIT, Inc. ("SmartStop" or the "Company"), a self-managed and fully integrated self storage company with approximately $1.7 billion of self storage assets under management, today announced the acquisition of a self storage facility in Riverside, CA. The facility is the Company's third in the submarket. This is SmartStop's 29th owned or managed location in California and 154th in North America.
The facility is located at 6637 Van Buren Boulevard in Riverside, CA, the most populous city in Southern California's "Inland Empire." This prime location has great visibility from Van Buren Road and provides easy access from the Riverside Freeway. The facility serves the communities of La Sierra, Corona, Eastvale, Ramona, and Jurupa Valley and is located next to Riverside Municipal Airport. The property's 379 units and 71 RV parking spaces span across approximately 69,800 square feet. The property offers customers a variety of amenities including a gated drive-in loading area, state-of-the-art security systems, keypad access and large truck accessibility.
"This is a tremendous asset in an undersupplied submarket with a dense and fast-growing population," said Wayne Johnson, President & Chief Investment Officer of SmartStop. "We are intimately familiar with the Riverside market, which is a short ride from our Ladera Ranch Corporate office. With an RV parking component, this new facility offers customers a complementary product type from our two neighboring SmartStop facilities, which we expect to provide sizable operating synergies."
About SmartStop Self Storage REIT, Inc. (SmartStop)
SmartStop is a self-managed REIT with a fully integrated operations team of approximately 400 self storage professionals focused on growing the SmartStop® Self Storage brand. SmartStop, through its indirect subsidiary SmartStop REIT Advisors, LLC, also sponsors other self storage programs. SmartStop is the tenth-largest self storage company in the U.S., with approximately $1.7 billion of real estate assets under management, including an owned and managed portfolio of 154 properties in 19 states and Ontario, Canada, and comprising approximately 104,000 units and 11.8 million rentable square feet. SmartStop and its affiliates own or manage 17 operating self storage properties in Ontario, Canada, which total approximately 14,300 units and 1.5 million rentable square feet. Additional information regarding SmartStop is available at www.smartstopselfstorage.com.
Contacts
David Corak
VP of Corporate Finance
SmartStop Self Storage REIT, Inc.
949-542-3331
IR@smartstop.com
Go Back
John E. Moriarty, ChFC
December 2015
I have been in the financial services industry for 20 years and our firm provides an education platform that gets clients to "think differently" about their financial picture.  For many years we have communicated to clients the need to diversify their portfolios using alternative asset classes and more specifically, private non-traded investments.  Due diligence on these types of financial vehicles is essential and when I learned about Blue Vault in 2010, our firm immediately began using their material as a tool to build confidence in the minds of our advisors on which alternatives to recommend to clients.  I am impressed with the way Blue Vault continues to add value to their subscribers and I view their publication as a tremendous resource in today's complex world.