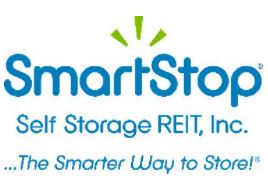 RECOMMENDATION TO REJECT AN UNSOLICITED OFFER
If you are considering selling your shares to Comrit Investments 1, Limited Partnership or its affiliates, please read all of the information below.
Dear Stockholder:
The Board of Directors (the "Board") of SmartStop Self Storage REIT, Inc. (the "Company") unanimously recommends that you IGNORE the materials that were sent to you by Comrit Investments 1, Limited Partnership and its affiliates ("Comrit") and REJECT its offer.
Please keep reading for important information.
We recently became aware of an unsolicited attempt by Comrit in which Comrit has proposed to acquire up to 211,020 shares of Class A common stock and 23,447 shares of Class T common stock of the Company at a price of $8.53 per share (collectively, the "Comrit Tender Offer").  After careful evaluation, the Board unanimously recommends that you reject the Comrit Tender Offer and ignore the materials that were sent to you by Comrit.
The following are a list of important considerations:
• As admitted by Comrit, it is "making the [Comrit Tender Offer] for investment purposes and with the intention of making a profit" (emphasis added). Comrit is a for profit business that, among other things, capitalizes on the illiquidity of shares by buying shares at what Comrit believes is a discounted price in order to make a profit. The Comrit Tender Offer indicates that Comrit believes that our shares will be worth more than its offer price in the future. Neither we nor any of our affiliates is in any way affiliated with Comrit.
• We believe the Comrit Tender Offer is an attempt to capitalize on the partial suspension of our share redemption program (the "SRP"). Presently, our SRP is partially suspended (other than in certain cases such as death, disability, confinement to a long-term care facility or other exigent circumstances) in order to maintain operating flexibility, continue to invest in future business initiatives, and prepare for strategic alternatives.
• The Company's estimated net asset value per share for the Company's common stock (the "NAV") is currently
$10.40
. Although this does not represent the price that a stockholder could obtain in the open market, or otherwise, the
NAV
is approximately
22% more
than the Comrit Tender Offer.
• As disclosed in its offering materials, Comrit did not retain an independent person to evaluate or render any opinion with respect to the fairness of the offering price, which is in contrast to the rigorous methods used by the Company in determining its NAV, including the engagement of an independent third-party appraisal firm. In addition, Comrit admits that it "is not qualified to appraise real estate" and that "there cannot be any assurance that [its] estimate accurately reflects an approximate value" of the Company's shares.
• The Board has significant knowledge of the Company and its assets, and based upon the historical financial data disclosed in the Company's Form 10-Q and Form 10-K filings over the past several quarters, there are positive trends, which indicate that the Comrit Tender Offer undervalues the per share value of the Company.
• Even if a stockholder were to take advantage of the Comrit Tender Offer, the Board cannot verify that Comrit has the funds to make a payment for any or all of the shares that may be tendered.
• Comrit has made three prior tender offers for the Company's shares, as follows: (i) in the first quarter of 2021 at $7.22 per share, (ii) in the first quarter of 2020 at $7.73 per share, and (iii) in the fourth quarter of 2019 at $7.84 per share.
• The Securities and Exchange Commission has cautioned investors about the
heightened risks
involved with offers such as the Comrit Tender Offer. In addition to this letter, we strongly encourage you to read the information provided by the SEC, here (www.sec.gov/investor/pubs/minitend.htm) and here (www.sec.gov/rules/interp/34-43069.htm). The SEC makes the following admonitions:
º If the offer is for less than 5% of a company's shares, it is a "mini-tender offer" and "you should proceed with caution." The Comrit Tender Offer is for up to approximately 0.7% of the total number of the Company's outstanding common stock as of November 11, 2020.  Thus, the Comrit Tender Offer is a mini-tender offer, and you should proceed with caution.
º "Some bidders make mini-tender offers at below-market prices, hoping that they will catch investors off guard."
º "[I]nvestors typically feel pressured to tender their shares quickly without having solid information about the offer or the people behind it. And they've been shocked to learn that they generally cannot withdraw from mini-tender offers."
º "[M]ini-tender offers typically do not provide the same disclosure and procedural protections that larger, traditional tender offers provide." We believe the materials provided along with the Comrit Tender Offer fail to adequately address certain matters, such as: a complete description of the risks associated with the Comrit Tender Offer; a clear discussion of the methodologies used by Comrit to determine its offer price or how it has valued the Company's shares; and a complete disclosure as to the financial wherewithal of Comrit.
While we do not believe the Comrit Tender Offer is in the best interest of our stockholders, it is important for you to carefully evaluate whether to tender your shares as it relates to your specific situation, particularly with respect to your investment objectives, your financial circumstances, other financial opportunities available to you, your own tax position and tax consequences, and any other factors you determine are relevant to your decision. To that end, we encourage you to consult with any financial, tax or other advisors when making your decision.
Please also carefully consider all the factors discussed in the Comrit Tender Offer materials, our letter and the advice provided by the SEC before making a decision.
We encourage you to follow the recommendation of the Board and not tender your shares in connection with the Comrit Tender Offer.
If you do not wish to tender your shares, simply IGNORE the Comrit Tender Offer materials and DO NOT RESPOND.
Should you have any questions or need further information about your options, the Comrit Tender Offer, or otherwise, please feel free to contact SmartStop Self Storage REIT, Inc., 10 Terrace Road, Ladera Ranch, California 92694, Attention: Investor Relations (telephone number: (866) 418-5144).
Sincerely,
H. Michael Schwartz
Chief Executive Officer

Source: sec.gov
Go Back
Ramón A. Rivera-Ramos
Blue Vault Nontraded REIT and Nontraded BDC Reviews
Blue Vault helps me to stay well informed on the financial status of both open and closed nontraded REITs and BDCs, so that I can help my clients better understand the product, before they make the decision to invest and after.