Warehouse Vacancy Rate, Container Storage and Effects of China Tariffs
January 2, 2019 | James Sprow | Blue Vault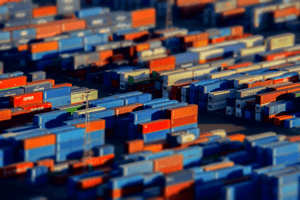 The Wall Street Journal reports that U.S. companies are "so inundated with inventory that some are renting truck trailers to use for storage space, parking them on warehouse lots or behind storefronts to hold goods until a surge in imports is cleared from crowded distribution hubs."
Many U.S. companies built up inventories in Q4 2018 to reduce the impact of tariffs on Chinese imports that were expected to hit on January 1 but were postponed to April. CBRE reported that warehouse vacancy in the U.S. fell to 4.3%, the lowest the real estate firm has recorded since it started tracking it in 1980.
Milestone Equipment Holdings is leasing truck trailers that are parked on warehouse lots or behind storefronts to hold the surge in inventories for retailers and manufacturers that sought to beat the new tariffs. According to the WSJ, inventory buildup contributed over 2.3 percentage points to U.S. GDP growth of 3.4% in the third quarter of 2018.
Other companies are stepping in to sublease empty portions of warehouse facilities on a short-term basis. The build-up in inventories for the Christmas season is now going to work its way through the system as retailers deal with the challenges of drawing down inventory as well as handling returns. CBRE estimates that the supply chain for reverse logistics (returns) require more warehouse space than outbound shipments.
Source:  Wall Street Journal
Go Back
I have been using Blue Vault Partners for the past five years.  I have found them to be a valuable, unbiased resource when it comes to evaluating and comparing non-traded REITs.  The reports help me analyze which sponsors are doing a responsible job of managing their offerings.  This allows me to limit my REIT recommendations to only the most competitive products, and then track those REITs throughout their life cycle.