American Realty Capital New York City REIT Eyeing Liquidity Event?
December 18, 2018 | James Sprow | Blue Vault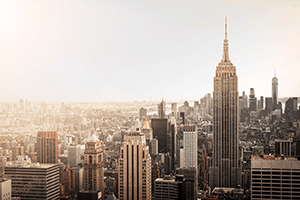 Even though American Realty Capital New York City REIT hasn't announced plans for a liquidity event, it appears to be heading in that direction. Katie Kurtz, the company's CFO and Treasurer, stated during a conference call with investors that the firm and its board "remain focused on driving earnings within the portfolio and preparing the company for a full-cycle liquidity event for shareholders." 
The REIT's latest 10-Q filing listed six properties comprising 1,085,084 square feet of rentable square feet acquired with an aggregate cost of $756 million. After the 10-Q was filed the REIT purchased a 17,500 square-foot medical office in Brooklyn, New York for $15.9 million.
On February 27, 2018, the Company's board of directors unanimously authorized a suspension of the distributions the Company pays to holders of the Company's common stock, effective as of March 1, 2018. The Company's board of directors will continue to evaluate the Company's performance and expects to assess its distribution policy no sooner than February 2019.
On October 23, 2018, the board of directors approved an Estimated Per-Share NAV of $20.26 as of June 30, 2018 based on an estimated fair value of assets less the estimated fair value of liabilities, divided by 31,346,179 shares of common stock outstanding on a fully diluted basis as of June 30, 2018, which was published on October 25, 2018. The REIT issued shares in its public offering which commenced in 2014 at $25.00 per share.
The REIT announced in its recent investor presentation that portfolio occupancy exceeded 90% at the end of the third quarter.
Sources:  SEC, Trepp, Blue Vault


Learn more about AR Global on the Blue Vault Sponsor Focus page


Comrit Investments Offers $13.08 for Benefit Street Partners Realty Trust Shares
AFIN B-1 Shares to Convert on October 10, Increases Credit Facility
VEREIT Settles Eight More Lawsuits Related to ARCP Accounting Fraud
Go Back
Austin Gross
Blue Vault Broker Dealer Educational Summit
Blue Vault has been an important partner to Geneos in providing us and our advisors pertinent information about non-traded products and the industry as a whole. The annual BD Summit is a valuable due diligence experience for any broker dealer."