Phillips Edison Grocery Center REIT I Internalizes Management
October 6, 2017 | James Sprow | Blue Vault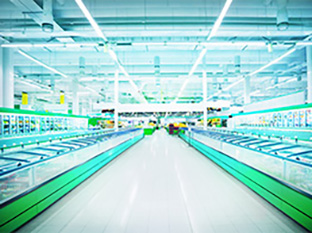 Phillips Edison Grocery Center REIT I Inc. (PECO I) said on October 5 that it had completed the acquisition of certain real estate assets and the third-party asset management business of its former sponsor and external advisor, Phillips Edison Limited Partnership (PELP). The combined company, now doing business as Phillips Edison & Co., is a non-traded REIT with a total enterprise value of approximately $4 billion. Reportedly it's the largest real estate trust focused exclusively on the grocery sector.
"We continue to believe in the strength of grocery-anchored shopping centers, which take full advantage of heavy and regular traffic generated by the grocer," says Jeff Edison, the company's chairman and CEO. "These assets have proven to be recession-and e-commerce resistant, as on average each customer visits the grocery store 1.5 times per week.
"Our focus remains on acquiring and managing properties anchored by leading grocery and service-based retailers who continue to adapt as consumer preferences evolve," adds Phillips, who says that the merger renders the company "better positioned to take advantage of future value creation opportunities, including a potential future liquidity event."
"The acquisition of PELP marks a significant milestone in our evolution," said Edison. This strategic acquisition allows us to benefit from one of retail real estate's most comprehensive and successful operating platforms, which was built over the past 25 years. As such, we are now better able to capitalize on growth in the grocery-anchored shopping center industry by gaining scale through our portfolio, as well as our asset management business."
The cash-and-stock deal for PELP, originally announced in May, is valued at approximately $1 billion. It was approved at the annual meeting of PECO I's shareholders on Sept. 20, and also by 93% of PELP's partners. Phillips Edison Grocery Center REIT I launched in August 2010 and raised nearly $1.8 billion before closing the offering in the first quarter of 2014. Shares were originally sold for $10.00 each. In May 2017, the company's board of directors declared the estimated value per share of its common stock to be $10.20, as of March 31, 2017.
The combined enterprise owns a diversified portfolio of 235 shopping centers comprising approximately 26.2 million square feet located in 32 states. It also has a third-party asset management business that manages over $2 billion of grocery-anchored shopping centers. Post-merger, it will benefit from greater geographic, grocery anchor and tenant diversification, according to the company.
Lazard acted as the exclusive financial advisor and Sidley Austin LLP acted as legal advisor to the special committee of the board of directors of PECO I. Goldman Sachs, JP Morgan Securities LLC and KeyBanc Capital Markets Inc. acted as financial advisors and Latham Watkins LLP acted as legal advisor to PELP. PECO I has also engaged Duff & Phelps to perform an independent valuation of the combined company.


Learn more about Phillips Edison & Company on the Blue Vault Sponsor Focus page.


Phillips Edison Grocery Center REIT I Shareholders Approve Internalization
Phillips Edison Expands Holdings With Illinois Retail Buy
Phillips Edison Grocery Center REIT I, II End ARC Advisory Contracts