KBS REIT II to sell Los Angeles office tower for $280M
September 14, 2017 | Luke Schmidt | Blue Vault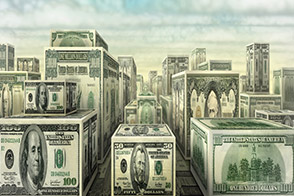 On September 8, 2017, KBS Real Estate Investment Trust II, Inc. entered into a purchase and sale agreement for the sale of Union Bank Plaza to RC Acquisitions, LLC ,an affiliate of Pacific Reach Properties. Pursuant to the agreement, the contractual purchase price for Union Bank Plaza is $280.0 million.
KBS REIT II, through an indirect wholly owned subsidiary, KBSII 445 South Figueroa, LLC, purchased the 40-story office building containing 627,334 rentable square feet, known as Union Bank Plaza, on September 15, 2010.  The property is located at 445 South Figueroa Street in Los Angeles, California on approximately 3.7 acres of land. As of June 30, 2017, Union Bank Plaza represented approximately 13.2% of the Company's assets and 17.8% of the Company's total revenues for the six months ended June 30, 2017.


Learn more about KBS Capital Markets Group on the Blue Vault Sponsor Focus page.

Cashing Out: KBS Looking to Liquidate Post-Recession Apartment REIT
KBS Legacy Partners Apartment REIT Announces Plans to Liquidate
KBS Growth & Income REIT to Buy Chicago Office Building
Go Back
Loreen M. Gilbert, CIMA, AIF, CRC, CLTC – President, WealthWise Financial Services
Blue Vault
Our firm has been using Blue Vault from the first year it was available.
We have found it to be a valuable tool to verify what wholesalers tell us and to dig deep into how the reported investments are really performing.
We appreciate that Blue Vault has expanded its services from initially covering REIT's to now also including BDC's.
Our clients also appreciate that we conduct this additional due diligence on their behalf.